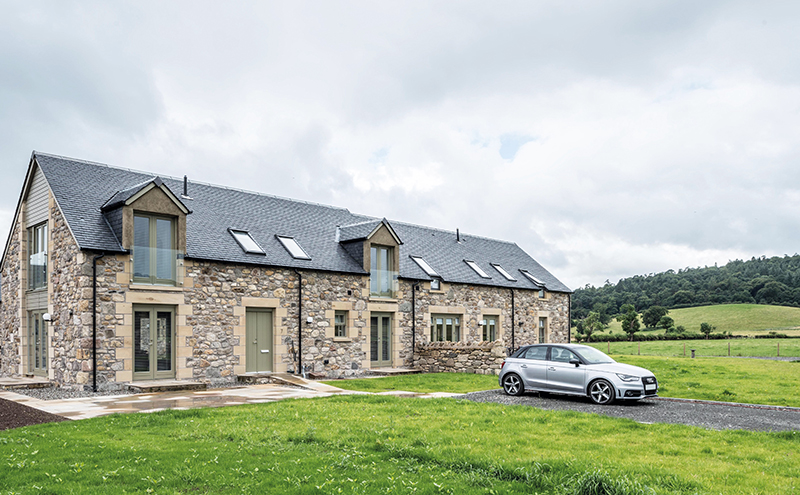 NATURAL slate has been used in a heritage farm renovation project in a small Stirlingshire Village.
Crammond Select Homes is behind the project at the Powis Mains Farm in Blairlogie. The old farm buildings and barns have been replaced with 11 three-bedroom homes offering views of the Wallace Monument. All the homes were required to use materials that would blend in with the traditional architecture of the village.
As a result, Cupa Pizarras' Heavy 3 slate was specified. Developer and architect Bobby Halliday explained, "Heavy 3 was ideal for this project due to its close resemblance to the traditional Highland slate from Ballachulish that is no longer produced, making the Cupa Pizarras slate now the primary choice for traditional Scottish slate roofing, whether it be for new or refurbished roofs. In addition, it is the only slate that can successfully withstand the Scottish weather, thanks to its thickness of 7-8mm."
The slate was supplied from Cupa's No3 quarry in Northern Spain.
Derek Waters from roofing contractor Derek Waters and Sons added, "We use Cupa Pizarras frequently, as the slates are solid and can stand up to any powerful weather."
Allan Liddell, area sales manager at Cupa Pizarras said, "It's excellent that Cupa Pizarras has become a part of this incredible renovation project. I'm pleased that our slate is chosen for its high quality, but also that it can be used as a way to allow certain parts of Scotland to hold on to their special heritage."