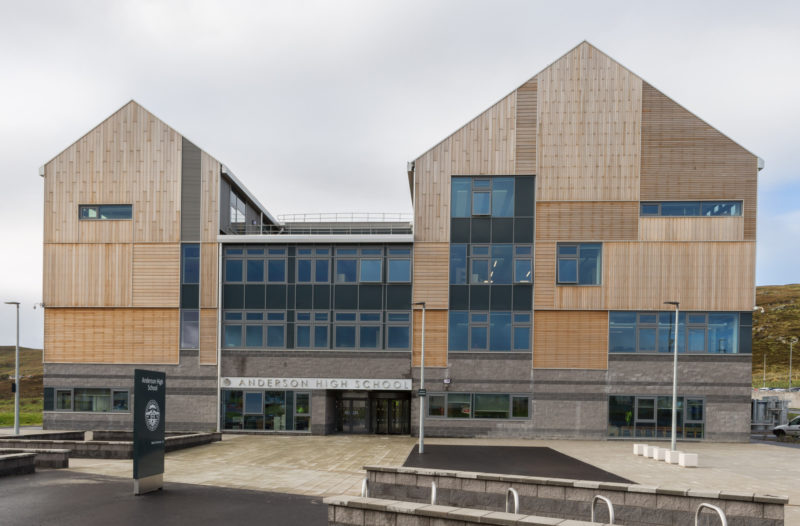 RYDER Architecture has revealed details of the challenges involved in building the most northernly secondary school in the country.
Shetland's Anderson High, which was delivered by hub North Scotland with main contractors Morrison Construction, has now welcomed 1,180 students and staff.
Ryder said the the school and associated halls of residence had to be inserted into a "highly sensitive context" which required careful consideration. Originally founded in 1862, the new Anderson High is one of the largest structures in Lerwick.
Chris Malcolm, architectural director at Ryder said, "The new Anderson High School and halls of residence projects presented us with a significant architectural challenge – how to successfully integrate a four storey exemplar school design into an unspoiled iron age setting.
"By drawing inspiration from the vernacular forms of the Shetland landscape, we hope we have created an architectural response sympathetic to this unique island setting.  It has been a real privilege to work on a project of such profound cultural significance to the people of Shetland."
A central atrium space and "support spine" is surrounded by teaching spaces. Most of the classrooms are on an external façade to take advantage of natural light.
With many pupils spending most of term time staying in the halls of residence, it was important to provide a "home away from home". Games rooms, television rooms, individual study booths and music practice rooms have all been included in the design along with additional support needs facilities and a weekend flat for visiting parents.
Mark Clarke, project director at Morrison added, "It was a pleasure working with Ryder building Anderson High School and its halls of residence, it being the most northerly high school in the UK. Ryder were a committed and user friendly partner who listened to feedback and, where they could, took supportive action without compromising the quality of two magnificent buildings that will be a testament to all involved for decades to come."
Helen Budge from Shetland Islands Council said, "I am absolutely delighted with the end result and the public of Shetland have been very positive during the two open days we had before Christmas. The staff are finding it a much better environment to work in and the pupils are enjoying the spaces. The feeling of space and light in the building is wonderful and as the building absorbs the movement of pupils so there is a real sense of calm and tranquillity within it.  It is truly fantastic."