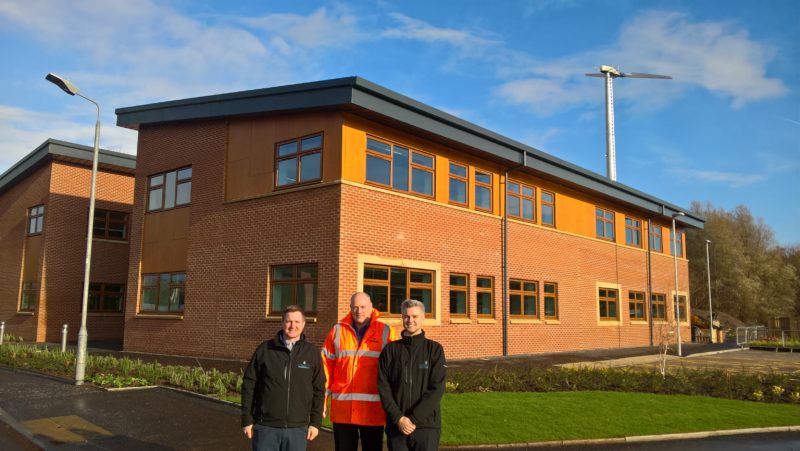 A £3.2 million innovation campus, built by Robertson Group, has been completed in North Ayrshire.
The second phase of Annickbank Innovation Campus in Irvine was delivered as part of a project for North Ayrshire Council, with two Robertson businesses involved in its creation.
Robertson Central West served as the main contractor, building two multi-storey office blocks on schedule. Robertson Civil Engineering delivered the foundations, slabs and supporting infrastructure.
The project was procured through Scape Group's National Major Works framework, now superseded by the Major Works Scotland part of the (Scape) National Construction framework, and delivered by Robertson in partnership with Willmott Dixon.
Ed Parry, managing director at Robertson Central West said, "We have worked closely with our colleagues in Robertson Civil Engineering on this project, with that joined-up approach crucial to ensuring the work was completed on schedule and to the highest quality. The pavilions we have built are truly best in class and they are flexible enough to serve the needs of future tenants regardless of sector. North Ayrshire Council is determined to attract even more businesses to the area and the quality of this campus gives them the ability to do just that."
In the first phase at Annickbank, two units were completed in June 2014. Both units were then sold to major businesses.
Councillor Alex Gallagher, Cabinet Member for Economy at North Ayrshire Council added, "We are ambitious in our plans to make North Ayrshire and i3 a key Life Science business destination. i3 is the largest Life Sciences Enterprise Area in Scotland and is the perfect base for new and growing companies from a variety of sectors, with the land and infrastructure to facilitate and support long-term growth. We are excited and confident that we will secure new tenants for these fantastic facilities and look forward to further development of this strategically important site."
Victoria Brambini, MD of Scape Procure commented, "It is fantastic to see Robertson complete Annickbank Innovation Campus, providing much needed modern commercial property space for innovative and growing businesses in the local area. Our frameworks foster a collaborative approach between contractors which delivers cost efficient high quality projects, whilst also creating social value, for example through training opportunities for local people and support for businesses and SMEs across the region."