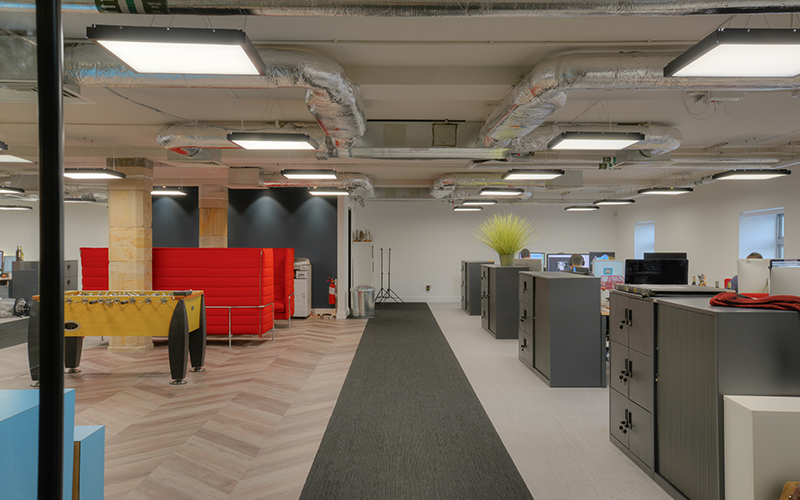 SCOTWOOD Interiors has recently completed a fit out operation at the new offices of the The Leith Agency in Edinburgh.
The East Kilbride-based firm worked with commercial property consultants HK Surveying and Design (HKSD) on the project. HKSD had been commissioned to design the new HQ for the digital design and creative specialist.
Jordon McCaffery of HKSD said, "The desired aesthetic was "defurbished". We sourced a lot of reclaimed materials that are synonymous with the local area and its heavy manufacturing history. Reclaimed timber, raw galvanised steel, marine grade rubber flooring and rusty mesh helped us achieve the look.
"The layout was designed to promote agile working, allowing the staff freedom to utilise a variety of collaborative, project-focused and social spaces. We were keen for these spaces to flow organically and blur the boundaries of conventional working methods.
"The boardroom and meeting rooms have been themed around historical pubs in the area, adding to the overall story of Leith."
Jim Scott of Scotwood Interiors explained what was involved in the fit-out. He said, "The design involved stripping out existing flooring and suspended ceilings to leave exposed services with new LED lighting and adaptation of existing heating system. The creation of meeting rooms was done with a mixture of glazed and solid partitions with laminate door, and bespoke features such as reclaimed scaffold board feature walls. We also created a new kitchen and breakout area again using bespoke industrial style finishes to maintain the industrial feel."