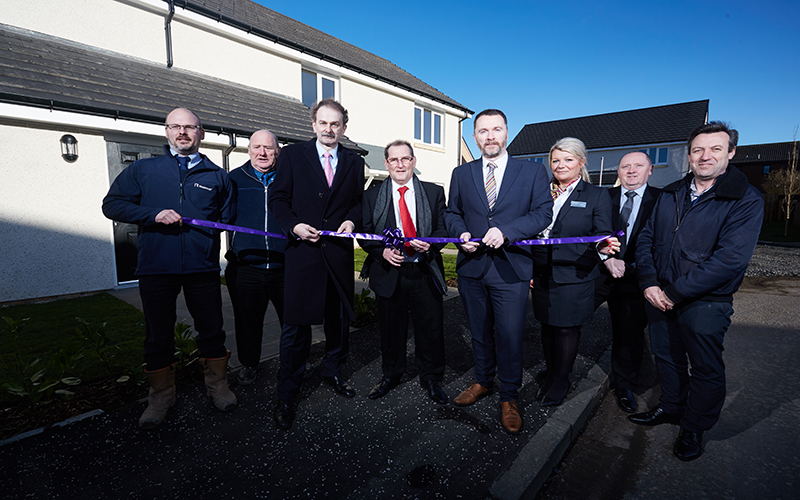 KEEPMOAT Homes has teamed up with Hanover Scotland to deliver ten affordable homes as part of the new 42-house Lyons Gate development in Ayr.
The housebuilder has been working with Hanover Scotland, South Ayrshire Council's preferred register social landlord (RSL) for the Heathfield Road development over the past 18 months.
The Hanover development – which received £763,000 investment from Scottish Government through the Affordable Housing Supply Programme – comprises eight cottage flats and two semi-detached houses for rent.
Sandy McBride, regional MD for Keepmoat Homes said, Before we even began the construction of new homes at Lyons Gate, we invested heavily in ground improvement works and consulting with the local community to ensure we delivered the right product. Over recent years the demand for new housing in the area has continued to increase and we are pleased to be working in partnership with Hanover Housing Association and South Ayrshire Council to be able to meet this demand.
"It was important that we not only brought new homes for sale to the market, but we incorporated social housing within the scheme, as this underpins our commitment to transforming communities and supporting customers at all ends of the market."
Mark Farey, director of asset management at Hanover Scotland added, "We are delighted to be working with South Ayrshire Council and Keepmoat Homes to bring modern, affordable homes to the area. This is a perfect example of how Hanover Scotland is working closely with local authorities to ensure Scotland delivers on its ambitious affordable housing target, providing high quality affordable homes suited to the needs of the local community."