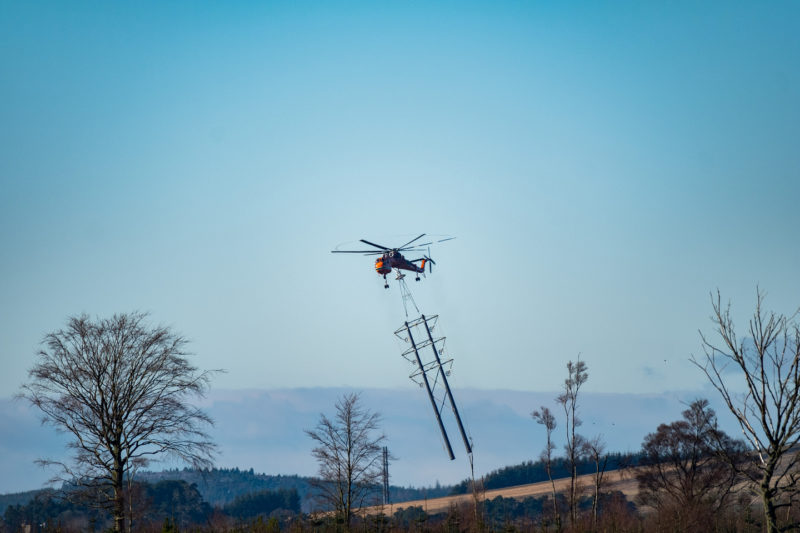 BALFOUR Beatty has used a specialist air crane helicopter from America to install 140 new composite poles in the north east of Scotland.
The project, to connect the Dorenell Wind Farm to Scottish and Southern Electricity Networks (SSEN) Blackhillock Substation, required an Erickson S-64 helicopter. The chopper, which can hold up to a 10-tonne load, allowed the construction team to overcome the rugged terrain and minimise disturbance to the environment and local community.
Andrew Smith, operations director for Balfour Beatty's power transmission and distribution business in Scotland explained, "At Balfour Beatty, we are continually assessing how we can utilise technology and innovation to mitigate safety risks, increase project efficiencies and overcome challenges faced by the sector.
"Working in collaboration with SSEN, we have developed an entirely new infrastructure solution which meets industry specifications in both the UK and Europe. This includes modifying the pole structures to be less intrusive, enhancing the durability of the insulators and utilising cutting edge conductors to enable real-time monitoring of windfarm and substation performance."
The composite poles, which use a durable composite plastic instead of traditional timber, are described as being environmentally friendly and requiring no preservatives. They are said to eliminate the need to harvest trees, last longer and can be repurposed or recycled.