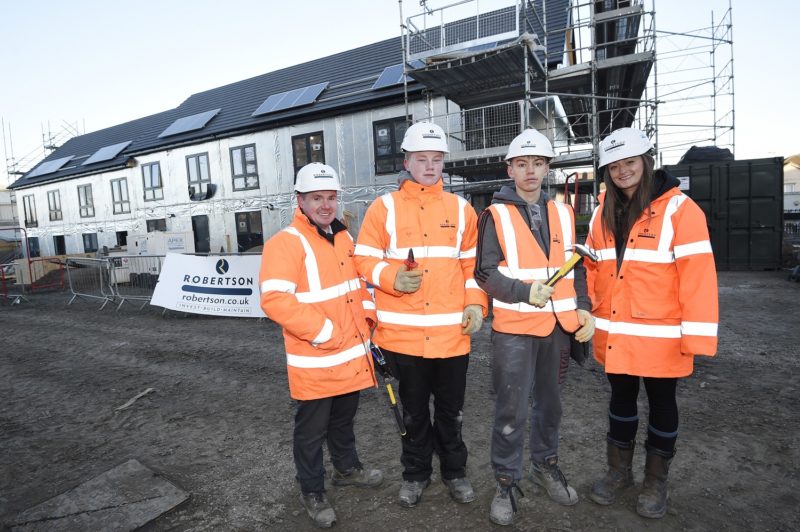 EIGHT senior pupils from Edinburgh secondary schools have taken their first steps in the construction industry after receiving extended work placements from Robertson Group.
The youngsters have enjoyed placements as part of Edinburgh City Council's Job, Education and Training (JET) programme, which provides opportunities to develop employability skills through a mix of training and work experience.
The pupils gained experience of different trades on a number of Robertson sites across the city.
Gemma Gourlay, director of social sustainability for Robertson Group said, "We're always looking to provide new opportunities for young people, introducing them to the varied skills they can develop through a career with Robertson. It's also important for us as a business, as offering placements allows us to introduce potential employees to the skills and expertise that we look for when hiring.
"As we face a construction industry skills shortage, programmes such as JET are absolutely critical in helping address this by highlighting our industry to the next generation."
Garret Brady, development officer for JET added, "Construction is a growth sector and to ensure that young people are prepared for employment it is important to provide them with practical opportunities to learn about the world of work. By providing Industry Insight Days and extended work placements, Robertson has played a key role in supporting young people to develop these skills.
"In particular, Robertson offered extended placements to a number of winter leavers and this experience has been a lightbulb moment for the young people – with some even securing apprenticeships with the company."
Jordan Walls (15) is on placement at Robertson Partnership Homes' West Pilton site, where 29 new homes will be created as part of the Small Sites Affordable Housing Programme, procured through Scape Group's National Major Works framework. He said, "Jordan said: "I've loved working with the different trades and figuring out my preference, and it's been great to have real-life experience before leaving school."
Jordan has now secured an apprenticeship with Tilley Electrical, the electrical subcontractor on the project.