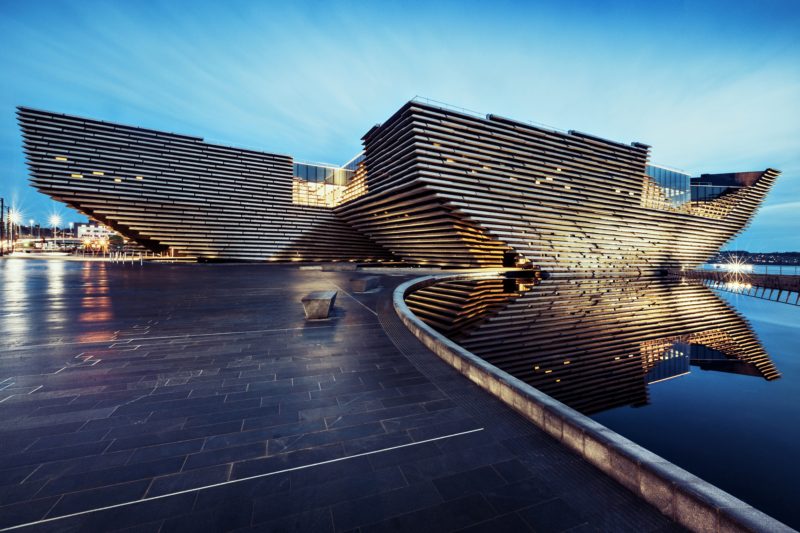 AN opening date of September 15, 2018 has been announced for the landmark V&A Dundee.
Scotland's first design museum – and the only V&A museum in the world outside London – lies at the heart of the £1 billion transformation of the Dundee waterfront.
Designed by Japanese architect Kengo Kuma and built by BAM Construction, V&A Dundee stretches out into the River Tay and has been tipped to bring a significant boost to the Scottish economy.
The museum will house permanent galleries of Scottish design, as well as an international programme of changing exhibitions.
Philip Long, director of V&A Dundee said, "After many years of planning for V&A Dundee, we are absolutely thrilled to announce the date of the new museum's opening. In just eight months we will be opening the doors and welcoming our first visitors.
"V&A Dundee is set to be a vital new cultural organisation for Dundee, the UK and beyond, helping to change understanding of just how important design and creativity are to people's lives. We are enormously grateful to all our supporters for helping to make this happen.
"V&A Dundee brings something new to Scotland. It is the country's first museum dedicated to design, which visitors will be able to experience and get involved with in very many ways. Particularly important is that the new museum enables major V&A exhibitions to be seen more widely by more people across the UK. So I am especially excited that part of V&A Dundee's opening programme will be the breath-taking exhibition Ocean Liners: Speed & Style, the first of many ambitious exhibitions at V&A Dundee that will show how our lives have been – and always will be – shaped by design."
Dundee City Council leader Councillor John Alexander added, "Our city is now receiving high-profile international attention and confirmation of the opening date for V&A Dundee will boost this further.
"This is an exciting day to look forward to for people in Dundee and visitors alike. I would like to thank everyone involved in the huge team effort to construct the building, which is an amazing feat of engineering, and to curate such fascinating design displays.
"This date marks the opening of an exciting new chapter for our city, as we strive to provide new economic opportunities and make Dundee a better place for everyone."
Tristram Hunt, director of the V&A commented, "The opening of V&A Dundee this year will be a remarkable moment for Dundee, the V&A and the UK. The V&A was founded to champion British design, showcase the greatest works of creative ingenuity and enrich everyone's imagination. V&A Dundee will build on our deep connections to the story of Scottish design and its meaning for modern practitioners, sharing our collections and world-class exhibitions. This is a cultural milestone for Dundee and a new opportunity for the UK to show the world how art and design can educate and inspire."
Fiona Hyslop, the Scottish Government's Cabinet Secretary for Culture, Tourism and External Affairs commented, "V&A Dundee will be a major addition to Scotland's already strong collection of museums and visitor attractions. It is the flagship of Dundee's waterfront development, and will act as a magnet for the city's regeneration, attracting inward investment and tourism, not to mention the jobs created during the construction phase and beyond.
"I am proud the Scottish Government has been able to make a significant contribution to this project, as I am convinced it will be a valuable asset in both cultural and economic terms for decades to come."