IT is an industrial drainage pipe renovation programme that can only be achieved with the lightest of touches.
When you operate thousands of metres of industrial effluent and water pipes that spread out under a village, through fields, across a river bridge, and under a stream – twice – the last thing you want to consider is major excavations.
That was the challenge facing RCL, the owner of a biomass combined heat and power (CHP) plant, a process evaporation plant, and the operations management provider for the Combination of Rothes Distillers (CoRD), owners of four distilleries in the village of Rothes, Moray.
RCL needed to renovate a 3km network of pipes that take 450,000 tonnes of process condensate from the CHP and evaporation plant, and 50,000 tonnes of waste water from the whisky production process, to a central effluent treatment plant every year.
An 800-metre main, which takes water from a tributary of the River Spey to a fire pond, where it is used for process cooling and emergency fire fighting, also had to be rehabilitated.
The solution has been the development of a four-year drainage renewal programme that all but avoids the need for excavation. Instead, advanced no-dig pipe renovation techniques are being used by independent drainage specialist Lanes Group plc.
Jon Close, Project Manager for Lanes Group said, "Conventional digging up and replacing of pipes was a non-starter. RCL needed a more sophisticated approach, to control costs, minimise disruption for stakeholders, and protect the environment. We have the cure in place pipe lining (CIPP) technology that can achieve this."
Lanes Group is now three years into a four-year programme to carry out the pipe renovation work, in a way that keeps excavation to an absolute minimum.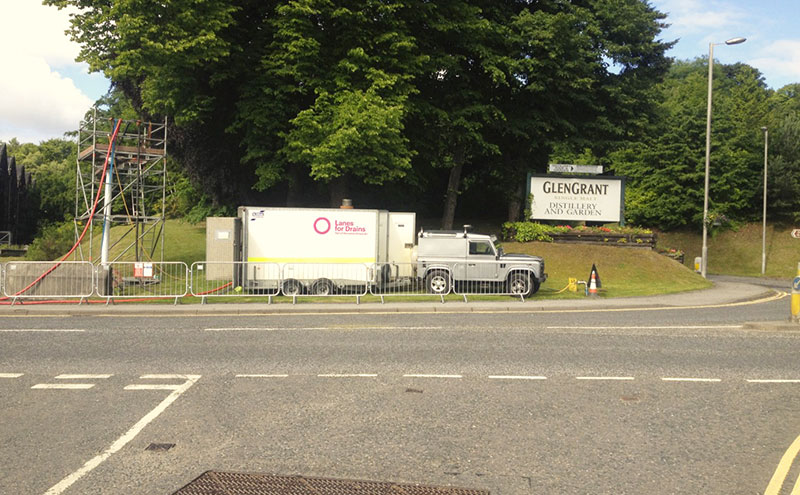 A comprehensive CCTV drainage survey of the network, carried out as part of ongoing maintenance, had identified a range of repairs needed to ensure the pipelines continued to meet production demands.
Over the first three years of the programme, during the two-week summer shutdown, hot water CIPP has been used to line 3,000 metres of mainly 150mm-diameter vitreous clay effluent pipes.
Water was used to force a resin-impregnated liner into the pipes. The water was then heated to 98-degrees Celsius to cure the resin, forming an impervious, chemical resistant pipe-within-a-pipe.
Also during summer 2017, Lanes used ultra-violet (UV) CIPP to renovate the 375mm-diameter vitreous clay fire pond main. It is located in the same channel as other services pipes, including a Scottish Water sewer, making excavation even less feasible.
Jon Close added, "UV lining had a number of benefits over hot cure lining. Firstly, it doesn't create large quantities of styrene waste water, so was ideal for lining a pipe feeding a fresh water pond.
"Also, the lining process uses less equipment, and is faster to set up, so causes less disturbance to above-ground services. The pipe runs right past a fire station and an ambulance station.
"The UV liners were installed without causing any disruption to either of them."
The renovation programme, carried out by the Lanes Sewer Renovation Division, based in Manchester, supported by a CCTV survey team from the Lanes depot in Aberdeen, is due to be completed this summer.
Lining the pipes extends their life for decades to come. Though barely anyone living in and around Rothes will have noticed it has happened.