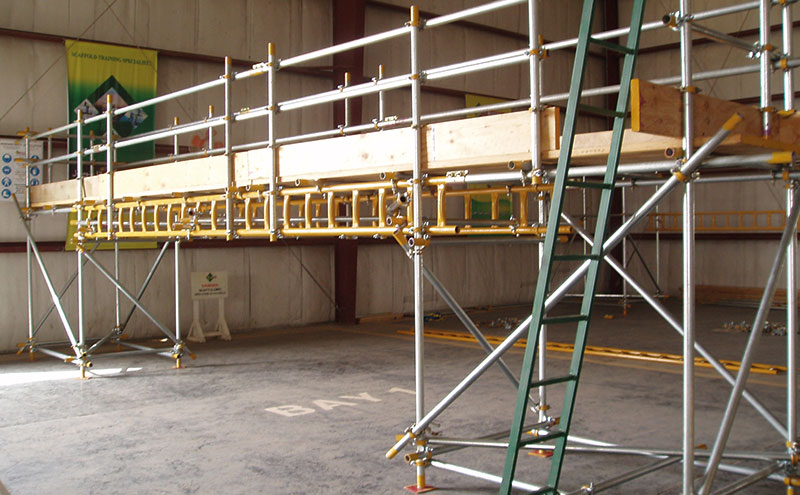 A fledgling Glasgow scaffolding supplier has opened a new training business and expanded its Glasgow base to facilitate growth.
Kenneth Norris founded Hillington-based Scaffolding & Access Supplies in late 2016 after working overseas. In between spells in Hong Kong and Egypt working for scaffolding giant SGB, he had a five-year stint as a general manager for industrial services firm Al-Suwaidi in Saudi Arabia.
Upon his return to Scotland, he set up his own hire and sales business, operating out of shared premises in Whiteinch, Glasgow. Kenneth told Project Scotland that after a successful first year, the business outgrew its original facilities and is now based in Hillington with its own operating unit.
The firm is a stockist of the Euro Tower product, which is available for sale and hire. They also supply a range of both low and high-level access equipment.
"We also provide installation of aluminium scaffolding towers so we can provide a full range of service for that," Kenneth explained. He added that the towers are well suited to anybody who "wants or needs light, speedy access".
"We are also stockists of Lyte Ladders. We also provide Turnlok system scaffold, tube and fitting scaffolding and all the accessories that go with that. We are agents for a company called SinoPlank, which is the provider of a laminated veneer lumber (LVL) scaffolding board and we provide that both in the UK and overseas.
"The other product we have is an internal decking system to prevent internal falls in timber frame buildings. It's a safety deck system that they put into the internal framework of the house when they're putting the rafters up and the roof beams in."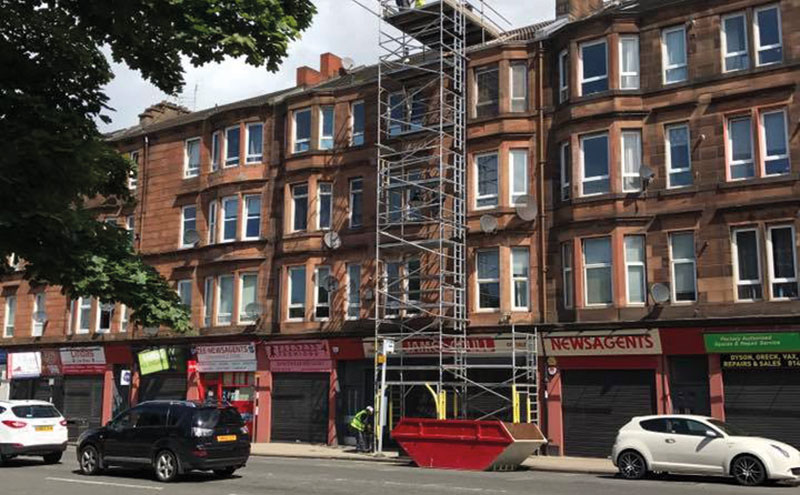 The company is now expanding into scaffolding training, which Kenneth said is becoming a "much more sought after requirement".
He explained, "We've opened up a separate company called Inscaff Training Services, where we're providing scaffolding training. My colleague Doug Stuart is the managing director of that business. We did a spell together in Saudi Arabia when we were working with Al-Suwaidi. We opened up a training centre there. When Doug came back to the UK…we got together and decided to open a training business as part of the growth plans for my business.
"I think we're seeing training become a much more sought after requirement because what you're finding is the youth of today not coming through any apprenticeship systems or any trainee programmes within the larger organisations. I think, also, health and safety requirements of today are more stringent and people need to have a better knowledge, understanding and level of competency before they can go on to building sites."
Kenneth's business is geared up to cover the whole of Scotland and is also involved in work overseas.
"We are quoting work in the Middle East and North Africa where we have quoted training and product sales," he explained. "We are promoting the LBL scaffold plank very heavily across the Middle East and we just supplied our first overseas job in the Philippines for a company called OMTech. That's for a power station, where we supplied directly from the factories in China to provide the equipment. We were operating as the agents for that transaction."
Looking ahead, Kenneth said the company wants to increase its rental capacity and improve its service element.
"We want to expand our business to encompass new products and develop partnering with both our clients and our supply chain. Growth obviously is what we're looking for, to establish our brand and make that prominent and I think we're interested in doing some overseas stuff as well but that's maybe step-by-step. Just now it's consolidating and sustaining – getting the business to a sustainable level and consolidating and building our client base."
Kenneth cites experience as a crucial asset for the business along with the ability to provide a service with a personal touch due to the small nature of the company.
"We're the local supplier for nationally manufactured products," he said. "Our strapline would be 'excellence without extravagance' because what we're trying to provide is an excellent service and not overcharge for that, provide it at the right cost, in the right market, at the right time and provide the right solution for people as well."