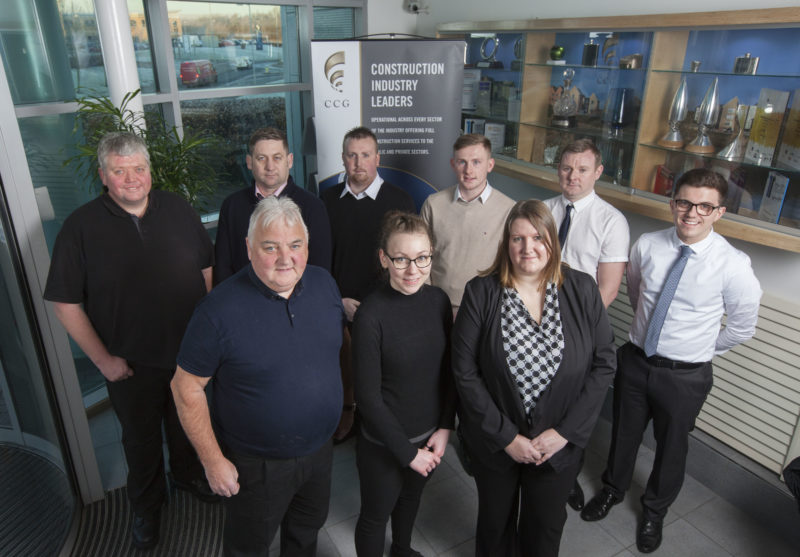 CCG has announced a significant intake of new trainees for 2018 as part of the firm's commitment to new entrants.
The CCG Group has 600 staff spread across five companies comprising construction, manufacturing, planned maintenance and mechanical and electrical works.
Last year CCG (Scotland) Limited, the major contracting entity within the group, recruited 17 trade apprentices and 15 management, professional and administration trainees. Looking to build on this, the business has now committed to recruiting 15 trade apprentices and 16 management, professional and administration trainees, with 5 of the 16 starting before the end of January.
The other companies within the Group will recruit five trade apprentices and two management, professional and administration trainees this year.
Johnnie Baillie, trainee assistant site manager, is one of the 2018 new starts. He will be based at a project in Craigmillar Town Centre, a 111-unit affordable housing development being constructed by CCG on behalf of Dunedin Canmore.
Johnnie said, "I am delighted to have joined CCG (Scotland) Limited. The training programme will be a challenge but with the breadth of understanding I will get from such experienced professionals, there are no limits to what I can achieve in my career."
Working alongside Johnnie will be an existing trainee assistant site manager and four trade apprentices.
Alastair Wylie, chairman and CEO of CCG said the business had the foresight to see the changes in the construction industry. He added, "We understood that our industry would one day become embroiled in a skills shortage that would be outstripped by an increase in demand post-recession. That is why we took the strategic decision to invest in our people, provide training and apprenticeship programmes, and always offer job opportunities where possible.
"Our commitment to retaining excellent standards is exemplified by the number of trainees we have taken on, bringing our total to 34 on top of the 71 trade apprentices employed across the CCG Group. We remain committed to offering opportunities for young people through a range of programmes as well as modern and construction apprenticeships and to anyone who wishes to take the next step in their career.
"This new intake of trainees will allow us to move forward in what will be one of our busiest years yet and I am confident they will do very well with CCG."