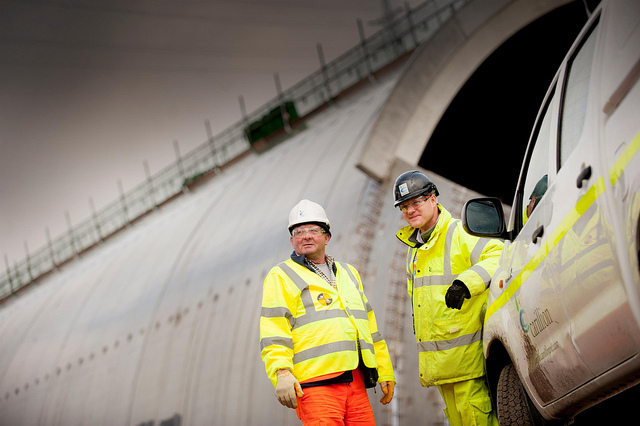 CONSTRUCTION giant Carillion has gone into liquidation. The Official Receiver has been appointed by the court as liquidator along with partners at PricewaterhouseCoopers who have been appointed Special Managers.
The firm is currently involved in a number of major public sector contracts including HS2 and the Aberdeen bypass. The UK Government has announced it will provide the necessary funding required by the Official Receiver to maintain public services.
A statement on the Carillion website read, "The Official Receiver has been appointed Liquidator of Carillion Plc and certain other companies in the group. The Official Receiver is seeking to maintain operational continuity and is continuing to trade these companies.
"Special Managers have been appointed by the High Court to help manage the affairs, business and property of the companies, in accordance with the powers and duties contained in the order appointing them. The Special Managers act as agents of the companies, without personal liability."
Multiple sources have reported Carillion chairman Philip Green as saying, "This is a very sad day for Carillion, for our colleagues, suppliers and customers that we have been proud to serve over many years. Over recent months huge efforts have been made to restructure Carillion to deliver its sustainable future and the board is very grateful for the huge efforts made by Keith Cochrane, our executive team and many others who have worked tirelessly over this period.
"In recent days however we have been unable to secure the funding to support our business plan and it is therefore with the deepest regret that we have arrived at this decision.  We understand that HM Government will be providing the necessary funding required by the official receiver to maintain the public services carried on by Carillion staff, subcontractors and suppliers."
MP David Lidington, Minister for the Cabinet Office and Chancellor for the Duchy of Lancaster, confirmed essential public services will be protected in the wake of the insolvency announcement. He said, "It is regrettable that Carillion has not been able to find suitable financing options with its lenders but taxpayers cannot be expected to bail out a private sector company.
"Since profit warnings were first issued in July, the Government has been closely monitoring the situation and has been in constructive discussion with Carillion while it sought to refinance its business. We remained hopeful that a solution could be found while putting robust contingency plans in place to prepare for every eventuality. It is of course disappointing that Carillion has become insolvent, but our primary responsibility has always been keep our essential public services running safely.
"We understand that some members of the public will be concerned by recent news reports. For clarity – All employees should keep coming to work, you will continue to get paid. Staff that are engaged on public sector contracts still have important work to do.
"Since its inception in the 1990s private finance has helped to deliver around £60 billion of much-needed capital investment in infrastructure in the UK across a range of projects and we will continue to maintain partnerships with responsible firms in future."
The Construction Industry Training Board (CITB) said it was taking steps to secure the future of the 1400 Carillion apprentices. In partnership with the Government and construction employers, CITB is creating a project team to prioritise the retention and redeployment of these workers.
CITB chief executive Sarah Beale explained, "The news of Carillion entering insolvency is clearly a significant blow to the UK construction sector. While this will present the sector with a number of challenges, CITB's priority is to do all it can to ensure that Carillion apprentices can continue their training so their skills are not lost.
"We have established a project team to work with the apprentices and will be offering in principle grant and apprenticeship transfer incentives to our employer base in order to retain these learners.
"We will be working closely with the ESFA, the Official Receiver and our network of college providers so that every possible support is in place to help these apprentices continue their training. We will be liaising with the Official Receiver with a view to contacting the apprentices as soon as possible."
Meanwhile, Unite Scotland has announced it is to take legal action against Carillion for an alleged breach of obligations to give notice of redundancies.
Unite said it believes "thousands" of Carillion jobs are under threat in Scotland. Under current Labour laws, employers with a workforce of more than 20 workers at one location are legally obliged to give employees 30 days' notice of possible redundancies. Unite said Carillion have "demonstrably failed" to do that.
Unite's Scottish Secretary Pat Rafferty said, "Given today's drastic events it's clear that Carillion was legally obliged to give notice to the workforce in December of the possibility of  redundancies. It hasn't done that. So Unite is taking advice about legal action to secure the pay and pension rights of our members. Obviously saving jobs is the priority but we also have to make sure that workers don't pay the price for what is boardroom recklessness."
Unite Scotland added that it believes the Carillion collapse should be a stark warning about the "obsessions" across UK politics about the privatisation of public services. Pat Rafferty added, "This is what happens after years of worship at the Holy Grail of privatisation. It starts with the mistaken belief that private provision is best and ends with the taxpayer picking up a billion pound tab when reality proves that is not true. There needs to be a government inquiry to establish just what went wrong at Carillion so that lessons can be learned."