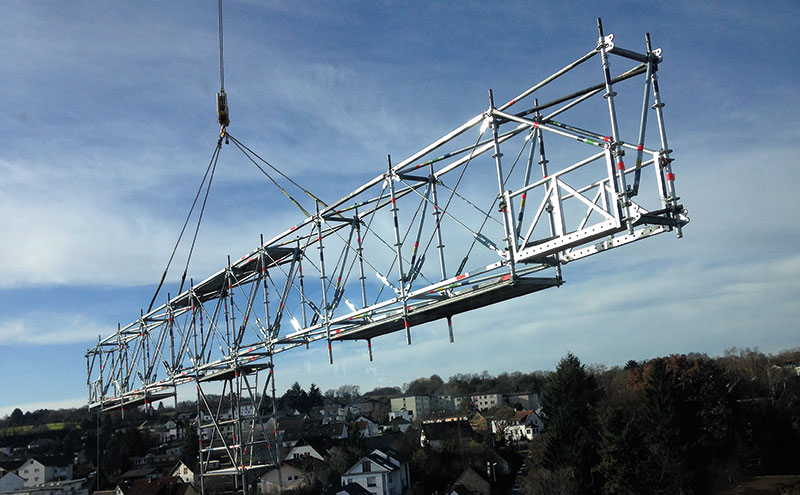 LAYHER has said a commitment to innovation, much of which is a result of customer feedback, is one of the key factors behind the modular scaffolding and access system manufacturer's ongoing success.
The business, which operates throughout Scotland via a regional depot in Livingston, revealed it can point to a long list of developments in recent years designed to enhance both the safety and efficiency of installations – from simple façade scaffolds to petrochemical facilities.    
The end of 2017 saw the company add to that list with a number of new products. The Layher FW System is described as a prime example with the "strong, simple design" fully compatible with Layher's Allround scaffolding.
"The FW System broadens the range of installation options on site yet comprises just four components – a chord, post, adjustable diagonal brace and safety clip," said Kenneth Redman, Technical Manager for Scotland and Ireland at the Layher depot. "It also offers bridging options with a span capability of 22 metres – sitting perfectly between our steel Lattice Beam 750, which can achieve a span of up to 12 metres, and our Allround Bridging System, which can accommodate spans in excess of 35 metres."
Support, suspended, cantilevered and temporary roofing structures can also be readily assembled with the FW design, which Layher said makes the system ideal for applications that call for rigid facilities, such as in bridge repairs, and for platform bridges where work is undertaken beneath the structure.
In locations known for high wind, or where specific project requirements dictate, the ability to ensure toe-boards are fully secure in place can also be particularly important and has led directly to a further new Layher development – the Toe-Board Retention Device. Easy to fix, without tools, on both steel and timber toe-board installations, the high-tensile stainless steel fabrication provides a friction-based fitting that is fully re-useable.
Because scaffolds do not always follow a perfectly straight layout that features only right-angled corners, Layher's design team has focused its attention on installations where curves are a feature – developing the new Layher Splay-Kit as a result.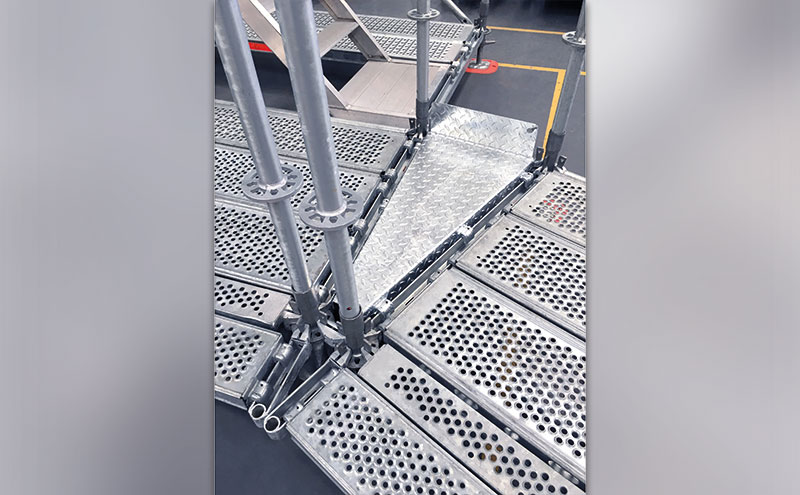 "The design fills the gap created by angled layouts," explained Sean Pike, Layher's UK MD at the company's UK head office in Letchworth. "The 'close gap management' concept comprises an angled steel deck, complete with its own integrated toe-board, which simply locates between straight edge scaffold steel deck runs."
Layher's specialist public access systems range from events to temporary facilities during station refurbishment.
"In this context, our stair case systems have also been enhanced by a new Continuous Stair Guardrail," Sean Pike added. "At a stroke, the need to use several types of pipe clamps and painted tubes, and for time-consuming measuring, cutting and finishing operations, can be consigned to the past."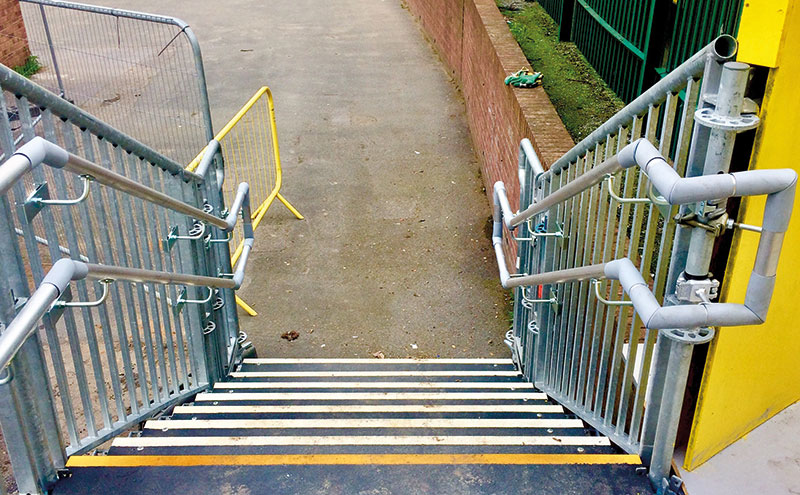 He explained that the purpose-made Layher solution creates an adjustable guardrail for use as a continuous unit throughout a stairway to provide a quick, neat finish that is more comfortable in use and more visually acceptable on site.
"Our fundamental aim is to ensure scaffold and access installations maximise safety while optimising factors such as project scheduling and efficiency, so our designers are always working on a range of innovations to meet these goals," he concluded. "These latest examples are evidence of this process and will be immediately recognised by our customers – not least, of course, the growing number of contractors with whom we work in Scotland."