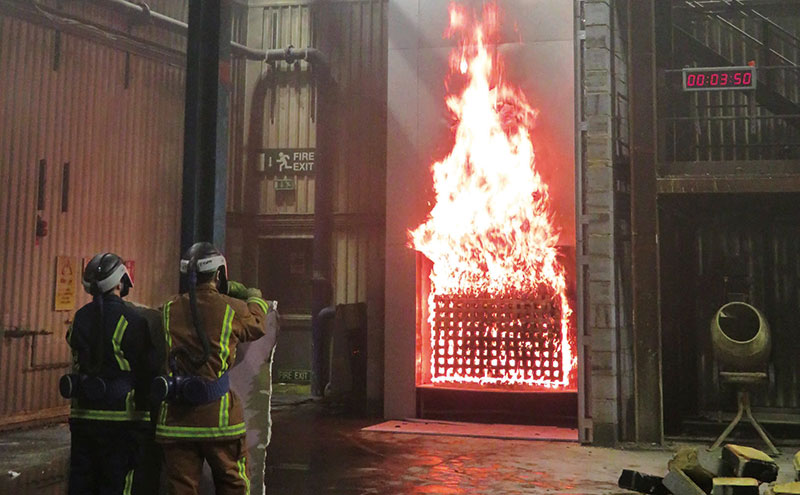 By Adrian Pargeter, head of technical and product development, Kingspan Insulation Limited
THE devastating fire at Grenfell Tower in June has raised many serious questions about how fire safety is assessed, regulated and enforced. In particular, the Building Standards for cladding installed on tall buildings (above 18 metres) have received considerable attention.
The size and complexity of these systems mean it is important to assess how the complete façade will perform in the event of a fire. Whilst current guidance allows large scale testing to be used to evaluate this, many façade systems continue to be approved under a tick-box assessment which relies solely on data from testing on small product samples.
LARGE SCALE TESTING
In Scotland, Technical Handbook Section 2 for Scotland (THB2) refers to a route to compliance for façade fire performance, using the large-scale test – BS 8414 – in tandem with BR 135: 'Fire performance of external thermal insulation for walls of multi-storey buildings', which provides clear pass/fail criteria for the assessment of façade systems when tested to BS 8414.
In the BS 8414 test, the complete façade system is erected on an 8m (min) test wall and exposed to flames from a combustion chamber at its base. To achieve a pass, flames must not reach the top of the wall during the full 60-minute test duration and set temperature limits cannot be exceeded for a range of positions on the test wall.
Only the complete external facade system that was tested can be deemed compliant via this test.  This is not a test of individual products.
This approach provides a clear assessment of how a fully installed insulated facade system will perform in the event of a fire. Façade systems which incorporate 'non-combustible' insulation, however, are currently allowed to take a different and arguably less rigorous route.
TICK-BOX
Under guidance in THB2, façade systems which use 'non-combustible' insulation can be deemed compliant on buildings over 18 metres, so long as performance requirements for the façade cladding panels are also met.  These panels must be either non-combustible, low risk / Class 0 or Class 1 depending on position on building and location of the building in relation to its 'relevant' boundary.
There are several potentially serious issues with this approach. 'Non-combustible', 'Class 0 / Low Risk' and 'Class 1' classifications of insulation and façade materials are made solely through small scale tests on isolated product samples measuring as little as 225mm x 225mm. The design of the façade system cannot be tested at this scale, and as materials are assessed separately, no consideration is given to how the elements will perform when combined as part of a system.
This is concerning as even relatively minor design changes can have a notable impact on the overall fire performance of a façade system.
This route can also allow systems containing large quantities of combustible materials to be deemed automatically compliant. It is possible for composite façade cladding panels to achieve a Class 0 rating despite containing combustible core materials. A number of other potentially combustible components – such as vapour barriers – may never be considered. Indeed, systems incorporating 'non-combustible' insulation in combination with combustible rainscreens have already been shown to fail when tested to BS 8414.
SAFER FUTURE
The construction industry has a clear responsibility to ensure that the tragic events of last June can never occur again. As part of this effort, the revised Building Standards must ensure that every cladding system is properly assessed under a system of regulation based on large-scale testing.