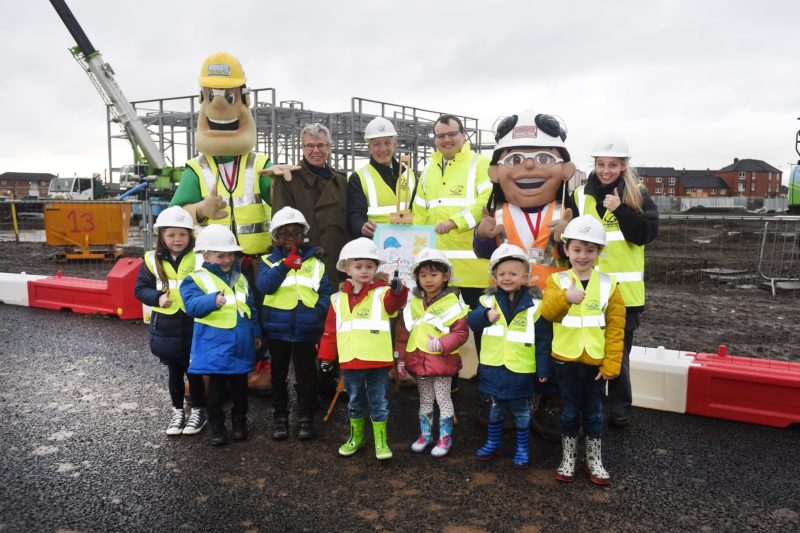 A Glasgow-based construction firm has teamed up with the Considerate Constructors Scheme (CCS) on an initiative to get youngsters thinking about construction.
A group of pupils recently gathered at the site of what will be the new £15 million Dalmarnock Primary School to launch a competition to create designs for the site's hoarding boards. Aimed at local children aged between three and 12, the project is being delivered by City Building in conjunction with the CCS.
City Building revealed that the budding artists will take their inspiration from a theme which encourages them to think about the importance of safety in construction. The winning entry will feature on the hoarding boards at the site of the school, which is due for completion in 2019.
The school is being constructed by City Building in the heart of the former Commonwealth Athletes' Village. It will feature 14 classrooms fitted with interactive technology, assembly and gym halls, drama and nurture rooms and a library. The public square includes a clock tower and a football pitch will also be located within the grounds.
To start the competition, pupils from nearby Dalmarnock Primary School and Silverdale Nursery, who will attend the new school in the future, were greeted by the construction industry's official mascots, Ivor and Honour Goodsite. City Building chair, councillor Greg Hepburn and councillor Chris Cunningham, City Convener for Education, Skills and Early Years were also in attendance.
Councillor Greg Hepburn said, "City Building has a strong and proud record of positively engaging with local communities, and this project provides a creative way to strengthen this commitment. In addition to encouraging kids to take in interest in construction, the artistic murals will add a splash of colour to the site and can be enjoyed by all local residents in the years to come."
Councillor Chris Cunningham added, "The art competition is the ideal way to engage children in the project right from the start.  We want the local community to help shape their new school and feel part of this project.
"Following the construction of hundreds of new homes in the former Commonwealth Village, there has been a surge demand for primary school places. The new Dalmarnock Primary School is set to be a highly innovative building where young people will be able to flourish in a modern learning environment.
"It was fantastic to visit the site which will be welcoming hundreds of children in 2019, and hear about some of the imaginative ideas the pupils have to decorate the boards."