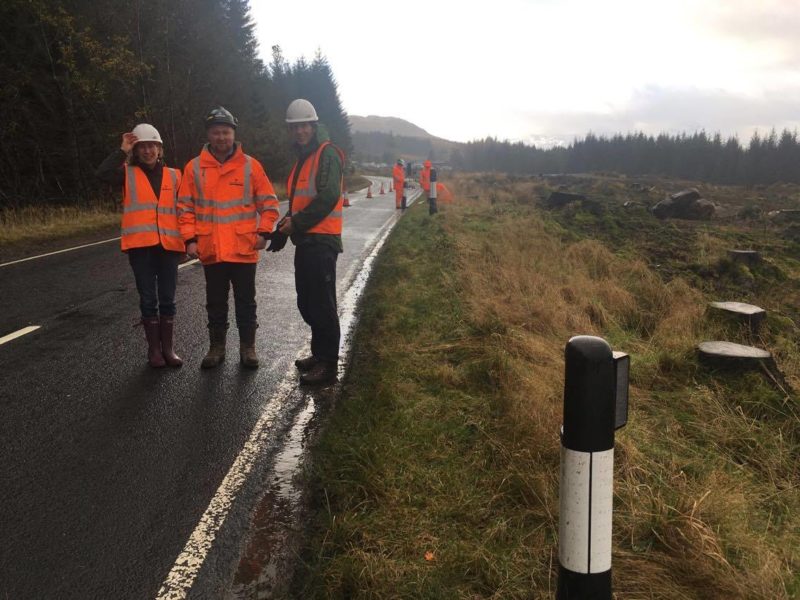 A Scottish construction firm is helping otters by supporting the installation of otter reflective barriers in Killin.
Robertson said the installation should allow passing otters and other wildlife to cross safely. The move follows the International Otter Survival Fund (IOSF) citing road deaths as the key reason that UK otters have a shorter lifespan than those in other countries.
The project, led by Environmental Action Killin (EAK), was met with support from Stirling Council and Robertson Civil Engineering, who carried out the installation works on the A827 near its Acharn biomass facility – a stretch of road notorious for otter fatalities.
Highway Barrier Solutions provided traffic management and lighting support, with the Callander branch of the Scottish Wildlife Trust and the Killin and Ardeonaig Community Trust providing wildlife reflectors and stakes and bollards respectively.
Bob Gould, construction manager at Robertson Civil Engineering said, "Environmental best practice systems are embedded into all our core activities, so when EAK raised the issue of otter deaths related to road use in the area, we decided to offer our full support in ensuring the area around our Acharn facility is equipped to help safeguard the future of this important species."
Rosemary Third, Environmental Action Killin (EAK) added, "Following the loss of a healthy female adult otter earlier in the year – the second in the same area – we decided to take action to help ensure this beautiful, iconic species is protected for generations to come. In the past their population has been decimated by hunting, habitat loss, disturbance, use of pesticides and pollution – now the greatest threat comes from our roads.
"I very much hope this successful project leads the way in inspiring future partnerships between businesses and conservation groups and becomes an integral part of planning and practice internationally."
Councillor Jim Thomson, Convenor of Stirling Council's Environment and Housing Committee said, "We work continuously to protect our local wildlife and were keen to help develop a proposal that would deter otters from crossing the road when vehicles are present.
"The installation of the protective road barriers was a combined effort by our officers, the developer and EAK and is a great proactive response that we hope will protect the otters from further harm."
Further support came from the IOSF, which offered technical advice, with local insights and information provided by the Loch Lomond and the Trossachs National Park.