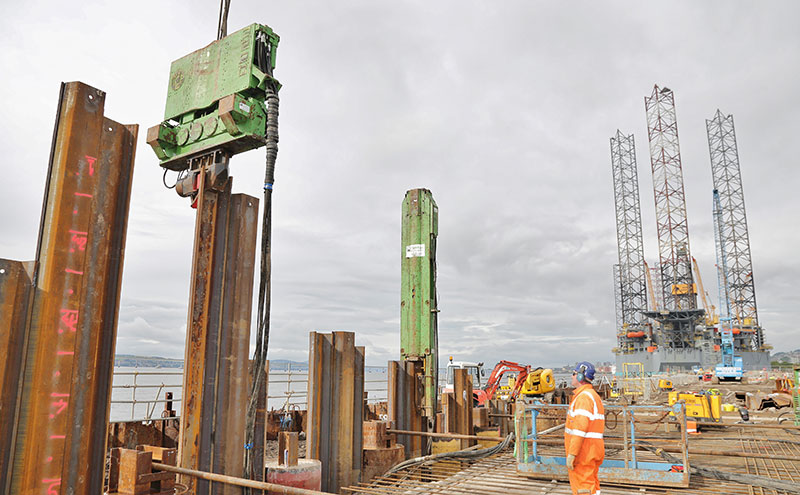 THE multi-million pound quayside development at Dundee's Prince Charles Wharf Extension is on track for delivery with a bit of help from Piletec, the piling arm of specialist hirer Groundforce.
Tyneside contractor Southbay Civil Engineering Ltd (SCEL), is using a carefully selected range of piling hammers and vibrators to install the tubular and sheet steel piles required to bring the dockside up to current standards and restore the wall and quayside to full operational use.
The quay, which measures approximately 200m in length and 40m in width, also features a new 50m x 40m heavy-lift area to allow the facility to handle the ever-increasing cargo loads.
SCEL has installed 210 tubular steel 508mm diameter bearing piles to support the new quay deck; a further 40 tubular steel 'combi-wall' piles, each 1,220mm in diameter, support the quayside's retaining wall.
The combination of impact hammer and vibrating hammers were prescribed by Piletec as the most efficient method of installing the different types of pile employed at the site. Hard driving conditions in variable ground make this a challenging task for SCEL.
SCEL site agent Steven Telford explained, "The bearing piles support the new concrete deck and vary from 16m to 31m in length.
"The combi-wall piles are driven at 3m centres along the line of the harbour wall with L606 sheet piles as infill.
"The tubular piles are vibrated in to refusal and then the CX110 impact hammer is used to drive them to their final depth."
The crane-suspended CX110 is a double-acting hydraulic impact hammer, said to be capable of delivering 106kNm of impact energy. The unit is designed for automatic or manual operation and the controls allow the operator to adjust the stroke and the blow rate.
The large-diameter combi-wall piles were driven using Piletec's 815C standard-frequency vibrating hammer, also suspended from a large crawler crane. Designed for driving long, heavy-section piles and large diameter tubes, especially in cohesive soils, this model has maximum centrifugal force of 1,250kN.
The smaller bearing piles were installed using the 14RF resonance-free suspended hammer. Resonance-free vibrators are described as offering "complete control" over the output vibration and allow vibration to be switched on and off.
This means there is zero vibration during start-up and run-down and therefore no potentially damaging low-frequency vibrations.
Steve Telford added that difficult ground conditions, the piling work "has not been without its issues".
"But Piletec's service has been extremely good and the equipment is first rate."
With the piling now completed, SCEL are on the final stage of constructing the new £10 million quay for its client, the Port of Dundee.