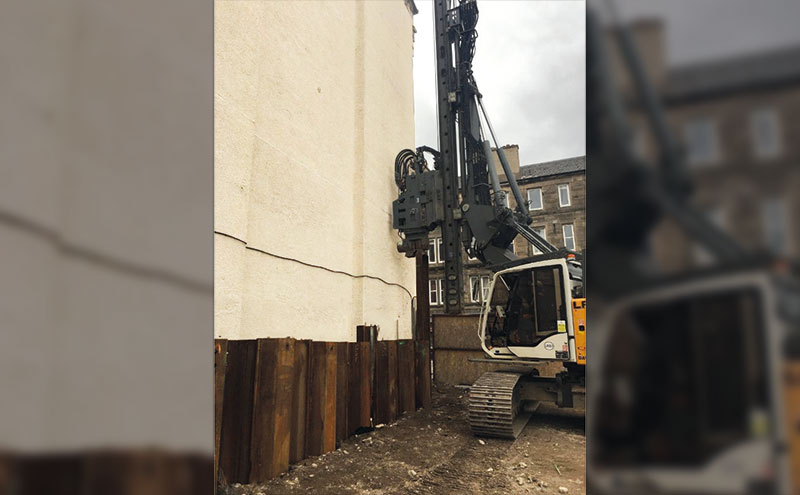 COMMERCIAL groundworks contractor Aarsleff Ground Engineering has completed a challenging sheet piling project in Edinburgh for a major supermarket.
The firm was awarded the contract by construction, refurbishment and maintenance company, Clark Contracts, acting for the client Lidl UK, to facilitate the construction of a new store on Easter Road in the Capital, part of a now defunct B&Q site.
Aarsleff supplied and installed 236 GU 21N 600mm steel sheet piles with a TM13116 SI rig with hydropress, fitted to a Liebherr 125 XL, to act as a retention wall for an existing structure acting in temportary and permanent conditions, as well as facilitate the new store's underground car park.
James Wilson, construction manager at Aarsleff explained that the challenge was not damaging an old cemetery wall on the site. He explained, "On the left hand side of the site we've got an old cemetery wall. That needed to be kept in place and we needed to be as close to that (as we could) without damaging it, so we pre augured it first and then we had to go across the gable end of somebody's house so we pre augured all that as well.
"We were in and out on time and it was fairly challenging. We were piling literally 100ml from the gable end from one of the existing houses adjacent to the site, which has got a basement as well, so we had to use a three-cylinder push/pull system, which pushes and pulls at roughly 200 tonnes."
Aarsleff Ground Engineering's site foreman Joseph Mills added, "Every job has its own little challenges but it's only as difficult as you make it and it always helps to have good team around you."
The firm has also recently formed an alliance with North Piling to better service the need and requirements of its clients in the Scottish construction market. Practically, the alliance means that Northern Piling will remain piling within Scotland, with Aarsleff Ground Engineering providing the geotechnical services and/or retaining structures, to complete the foundation package offering. The companies have also entered into agreement that they will offer their joint service for ground beam & foundation solutions in Scotland only.
Kevin Hague, director at Aarsleff Ground Engineering said, "We see key opportunities in Scotland for both our organisation's services to be used here and as an alliance, we wish to work closer together to win and deliver that work. Our unique offering allows us to provide tailored packages to our clients, often multidisciplinary, specific to the relevant sector, known by others as a One Stop Shop solution." Bill Mitchell, director at Northern Piling added, "We are pleased to have joined forces with Aarsleff Ground Engineering, a well-established expert specialist ground engineering contractor, based in the UK. Together, we can deliver greater convenience and customer service to serve our clients and are now able to provide the total ground foundations package."