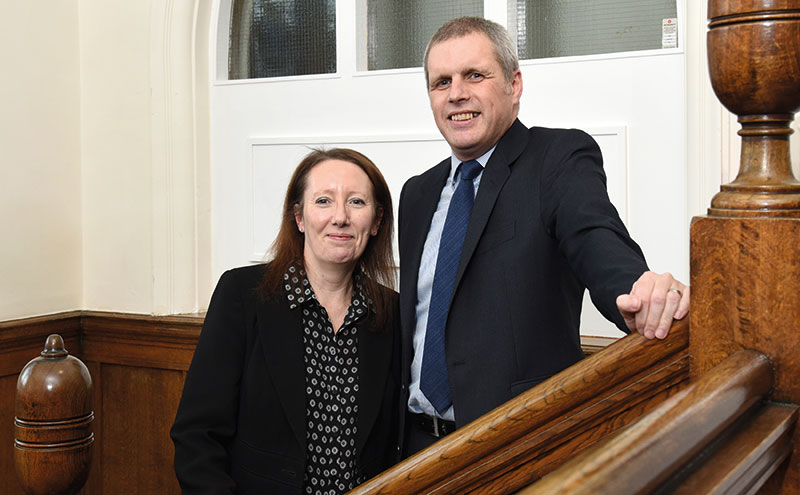 A new Inverclyde-based consultancy is making inroads into some major sectors after securing contracts, including one with a Scandinavian consortium who plan to connect electricity supply between Scotland and Norway.
Leapmoor LLP is a business established earlier this year by experienced consultants Gary McCann and Alison McKay. Their new company offers services in project management, civil engineering and contaminated land assessment.
The firm is geared up to offer everything from complete project and multi-disciplinary design management to complex land contamination risk assessments on brownfield sites.
Gary, a chartered civil engineer and NEC3-accredited project manager has over 22 years consultancy experience and spent the last 15 years leading a multi-disciplinary team within a large engineering consultancy.
Delivering a wide range of projects in sectors including infrastructure, energy, ports and regeneration, he sees his strength as being his practical approach in applying design process combined with contract implementation.
Gary started off his career in the ground engineering and heavy civils environment and went on to specialise in the development of ports.  While he admits he'd like to source more work in the local maritime sector, his broad experience means he's prepared to tackle a number of different projects.
"I've worked in the past in energy, ports, road and rail, and regeneration," he explained. "I've got design coordination skills. I'm a NEC3-accredited project manager, so I can write the contracts and manage the implementation. That can take me into a lot of sectors and gives me flexibility."
Alison is a land contamination specialist with over 25 years experience gained through consultancy and regulatory roles. She is an experienced risk assessor and has experience in large, complex development sites and in regulatory compliance.  She also advises the Scottish Government, contributing to policy development. "I am often brought in by clients where they have discovered that things are more complex than originally thought or where something has already gone wrong," she said.
"However, I can provide the most added value to your project as part of your team from the very beginning".
The new business is based in the Gourock Municipal Buildings recently renovated by Riverside Inverclyde. Alison believes being based in Gourock could hold certain strategic advantages for Leapmoor. "Gary has a strong ports background; we are at one of the port sites and I think that's important," she said. "Whilst working nationally, we're keen to connect with people in the local area and let them know what we do. We've had good feedback so far from the likes of local architects. It's just about getting our name out there at the moment and networking."
Alison said she believes the regeneration market is starting to pick up again and hopes that will bring opportunities for Leapmoor. While the vast majority of the firm's work at the moment is in Scotland, they're happy to consider projects further afield.
Gary added, "We offer project management with the added value of the engineering and environmental aspects brought in. We're coupling the technical specialism with the project management. As an independent company, we can then go direct to the client in a trusted advisor role. What we're doing is bringing a technical benefit with the project management so we're delivering on programme cost and quality at the same time.
"I've secured some initial contracts. One is with a Norwegian-led project company called NorthConnect who are building a 655km long electricity interconnector between Norway and Scotland, which will provide a 1400 megawatt electricity transmission link allowing exchange of renewable energy. I'm the enabling works package manager for the UK side. Coupled with ports work for the Port of Cromarty Firth, it's keeping me busy at the moment and allowing Alison to establish the business in a solid way."
Having worked on her own for the past decade, Alison's already adept at handling business admin-type tasks and is ensuring the new venture gets off on a solid footing. Gary has also embarked upon the Entrepreneurial Spark programme, which he hopes will accelerate growth of the business, bringing in more consultants over time. At the moment, they're content with drawing on a trusted network of contacts they can call upon, initially using associates and other sub-consultants.
Given the political uncertainty engulfing the country at the moment, it may seem like a daunting time to attempt to build up a new business. But both Gary and Alison up for the challenge. Gary feels one of the biggest hurdles for a small business is overcoming issues like frameworks.
"A lot of contracts for consultancies are tied in to big frameworks and require high professional indemnity insurance," he explained. "They're not related in any way to the scope of works or the fee scale. There's a misbalance in that respect. There are still a lot of lowest bids going on. People aren't paying for the quality they'd like or need. Some of the jobs we've done in the past have involved fixing someone else's problem because they didn't put enough into it.
"We're using our contacts and experience to get in and speak to people so they understand what we do and how we can help them get the best from their projects. Our partnership approach is very much 'telling how it is' and getting it done."