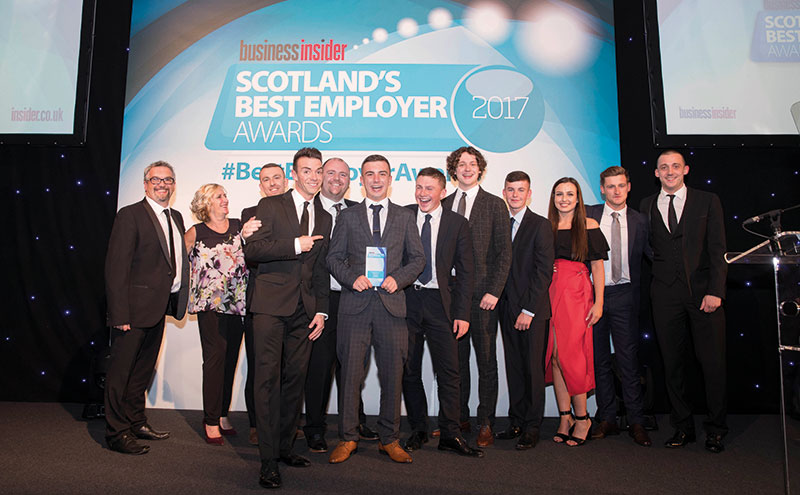 GMG Contractors has called on other companies to follow its example of embracing youth and taking on apprentices after winning a top youth employment award for the third time in four years.
The multi-discipline contractor, based in Glasgow's east end, recently picked up the Youth Investment Award at Scotland's Best Employer Awards, which took place at Glasgow's Grand Central Hotel.
The award seeks to recognise Scottish companies that can demonstrate their commitment to recruiting, engaging and developing young people.
"It's absolutely fantastic for us to be recognised in this way," commercial manager Paul O'Hare told Project Scotland. "We put ourselves forward to the market; we open ourselves up to apprentices and apprenticeships.
"We're employing about ten to fifteen apprentices every year, year on year. To be recognised for doing what we're doing in this industry is wonderful as far as the company is concerned."
GMG Contractors previously won the award in 2014 and 2016 for its commitment to taking on apprentices and providing them with an opportunity to develop a career – something Paul believes the industry at large should be doing.
He said, "We're promoting ourselves as being a good example of the right way of doing apprenticeships and youth investment and hopefully others in the industry will follow that."
Paul said that there is a shortage of youth employment "across the board" in the construction sector and he hopes that GMG is pointing the way forward.
The business has an on-going partnership with South Lanarkshire College, offering a two-year SVQ Level 2 roof tiling Modern Apprenticeship. Paul explained, "It was to bring young people from colleges and schools or out of work, into employment, which helps GMG in the first instance, because it gives us our future workforce, but more importantly than that, it gives local kids and hard to reach kids an opportunity to have a job and a career for life.
"First and foremost, we're employing apprentices but we're not just employing them, putting them through an apprenticeship and churning them back out – we're giving them jobs. It's a career they're getting with GMG.
"They're starting with us from school age. Some of them are hard to reach kids that have maybe been in trouble, either at school or outwith school, perhaps even with the law. What GMG is doing is giving them a chance to come in and prove themselves."
Paul added, "We're offering an attractive package; we tie in with the Glasgow Guarantee, which is the minimum living wage, which has been set up by the Scottish Government. The purpose of it is to develop peoples' talents and give them stability and an opportunity for career prospects and growth. They may not have had that in the past and we give them that chance."