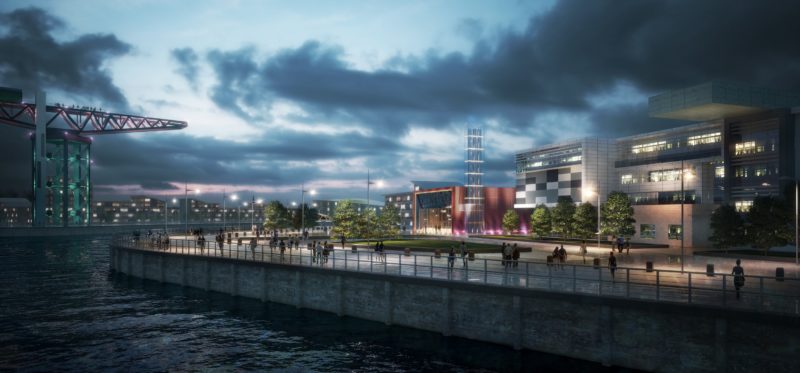 GEORGE Leslie has been appointed to deliver marine works at the £250 million Queens Quay regeneration project at the site of the ex-John Brown's shipyard in Clydebank.
Clydeside Regeneration Limited (CRL) said the works would include the creation of a 40m wide esplanade river frontage that will, for the first time since shipbuilding began in the area, give the public access to the river and in particular the basin that built the 'Three Queens' ships.
The Queens Quay site is owned by CRL with West Dunbartonshire Council part funding the development. Dawn Urban Regeneration Ltd is the development partner.
John McNaught, managing director at George Leslie added, "We are delighted to have been awarded the marine works package on this regeneration project at Queens Quay. We are looking forward to working with CRL and Dawn Urban Regeneration Ltd to make a positive impact within the Clydebank community through the delivery of this important project."
George Leslie will start work in January before construction of a £15 million care home and £25 million health centre starts in the summer. Subject to planning consent, construction of an energy centre is also expected to start early next year following the completion of the contractor tender process.
Duncan Graham of CRL added, "CRL is committed to creating quality amenity space within Queens Quay as the basis for attracting further investment. Commencement of the marine works is the first step towards the process of delivering Queens Quay and represents a milestone that has taken many years to achieve. It has come about as a consequence of the partnership with West Dunbartonshire Council and all those that have assisted us along the way."
Paul O'Donnell of Dawn Urban Regeneration commented, "We are delighted to appoint George Leslie Ltd as part of our project team for Queens Quay; the firm has a proven track record and is a leader in its field.  The coming year will be very important for Queens Quay with the delivery of all infrastructure and the commencement of a number of other developments."