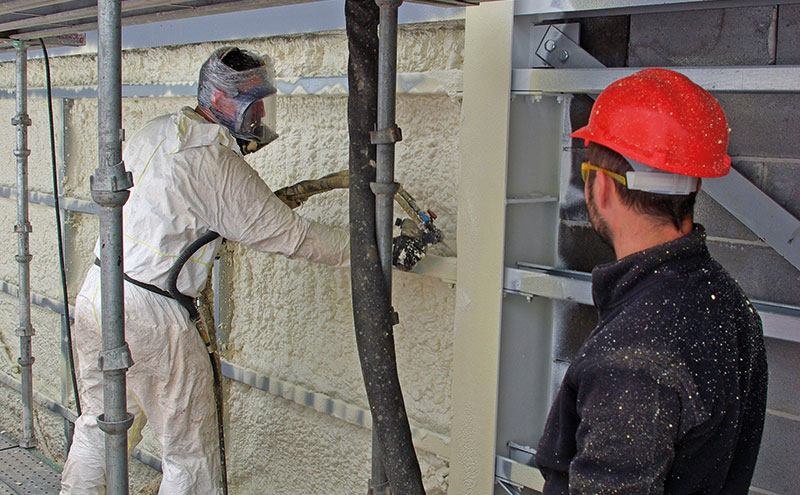 DESIGNERS of a new community Baptist Church, nearing completion in Dumfries, turned to spray applied insulation specialists, Icynene to solve a complex insulation challenge.
The new Church is a 2000sqm, multi-purpose building designed by Glasgow-based McLean Architects and built in the Georgetown district of Dumfries.
The building was conceived as a flexible-use community hub comprising worship, conference and youth facilities together with a full specification games hall and multi-use games area.
For the games hall, McLean Architects designed an 18.00 x 18.00 m sq 8.00 m high structure comprising a 140mm thick internal leaf of concrete blockwork with an external steel frame, supporting fibre-cement rain-screen cladding.
Here, the placement of insulation between the blockwork and the cladding system proved problematic. Project architect Kirsty Wilson explained, "The complex latticework of steel frame for the cladding made it extremely difficult to install conventional rigid board insulation. It would have been a hugely labour-intensive and expensive process and achieving the required air tightness standards would have been pretty much impossible."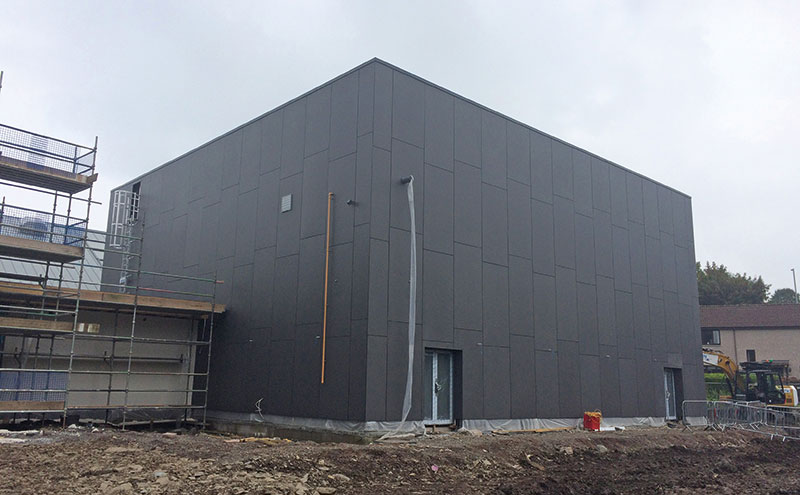 Specialist insulation contractors, JSJ Foam Insulation Ltd, who were brought in by main contractors Ashleigh Building of Dumfries, recommended Icynene, which is marketed as a high-performance spray foam insulation system which would be applied directly to the outer face of the blockwork, then covered by the cladding.
Icynene is a predominantly water blown insulation which is applied using a pressurised gun system. Foam is applied as a two-component mixture that comes together at the tip of a gun forming a foam that expands 100-fold within seconds of application, sealing all gaps, service holes and hard to reach spaces.
Air leakage can cause up to 40% of heat loss from a building. Icynene said traditional forms of insulation are relatively inefficient in sealing the box, as they cannot completely fill all voids or seal the interface between the insulation and the building structure. Nor can they cope with small structural movements which will often lead to air gaps, particularly in difficult to treat situations where access is poor and when voids are of complex geometry.
Jim Shearer of JSJ Foam Insulation added, "Icynene is nothing like the urethane foams of 20 years ago. Icynene uses water as the blowing agent so the reaction between the two components produces C02 which makes the foam expand
"We sprayed Icynene directly onto the blockwork and over the concealed sections of cladding framework. We had free access to the existing scaffolding platforms so the spraying process was quick and straightforward. We had the job done in under a week."
Spray foam insulation can be either open or closed cell in composition. Open cell is extremely vapour open and will allow moisture vapour to pass freely through it allowing the building to breathe naturally.
For the Dumfries Baptist Church project, Icynene MDC-200 HFO, a closed cell foam that uses Hydro-Flouro Olovine [HFO] as a blowing agent, was used. HFO is described as an environmentally friendly material which has a Global Warming Potential [GWP] of only 2 and an Ozone depletion rating of 0.
Icynene said closed cell foams tend to be much less vapour permeable than open cell and are considerably more rigid and hard. They resist the passage of liquid water and are ideal for use in conjunction with the rain-screen cladding system specified.
Icynene MDC-200 foam insulation was applied to the entire outer leaf of the games hall, an area of approximately 550 sqm and to a thickness of 150mm. The work was completed over a four-day period.
According to Icynene, spray applied insulation is broadly comparable in cost to conventional fibre based and rigid board type insulation materials. However, its speed of installation, minimal waste and its ability to perform in difficult to treat applications means spray foam can be an "extremely cost-effective solution" for a variety of projects up to and including those built to Passivhaus standards.
Construction of the Baptist Church buildings began in early 2017 and is scheduled for completion by Easter 2018.