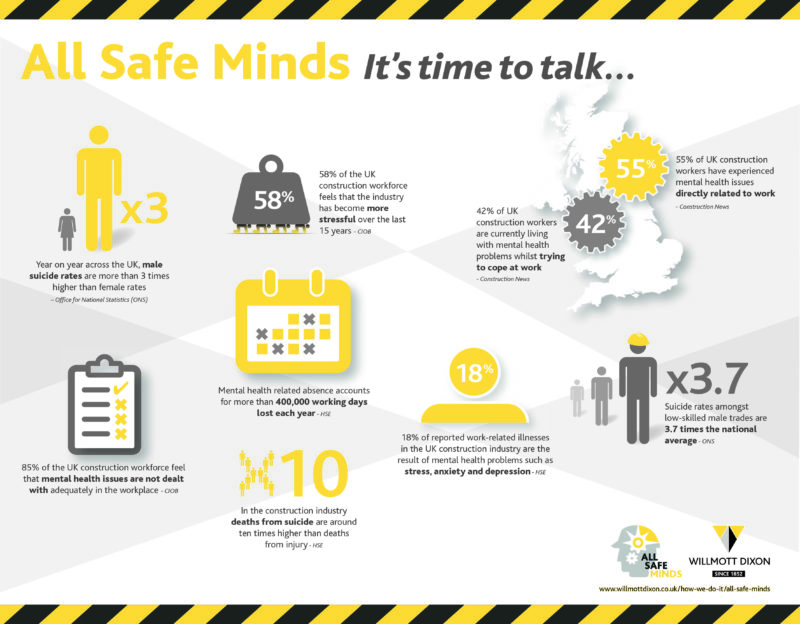 WILLMOTT Dixon has used a new infographic to highlight the issue of mental fitness within the UK construction industry.
Created as part of the All Safe Minds campaign, the infographic reveals some "frightening" statistics, driving home the scale of the problem.
The graphic includes the findings that 58% of UK construction workers feel the sector has become more stressful over the past 15 years, 85% of workers feel their mental health issues aren't dealt with adequately in the workplace, and 18% of reported work-related illnesses in the industry are the result of mental health problems like stress, anxiety and depression.
Mark French, head of health, safety and environment for Willmott Dixon Group said, "Although the way we deal with mental health in the workplace is constantly changing for the better, the UK construction industry still carries some of the most upsetting statistics.
"Our All Safe Minds campaign is designed to encourage our colleagues to take control of their mental fitness and offers them a quick route to support services and resources. By presenting the facts in this way, we will hopefully draw attention to just how important it is that we all take responsibility for recognising when our colleagues need help and encouraging them to seek it.
"We're aware that the facts make uncomfortable reading, but we need to break the communication taboo and start talking about how serious this problem is. We intend for the infographic to be shared and seen by as many people as possible as we continue to roll out the campaign over the coming weeks."
For more information and a list of support services, visit www.willmottdixon.co.uk/how-we-do-it/all-safe-minds