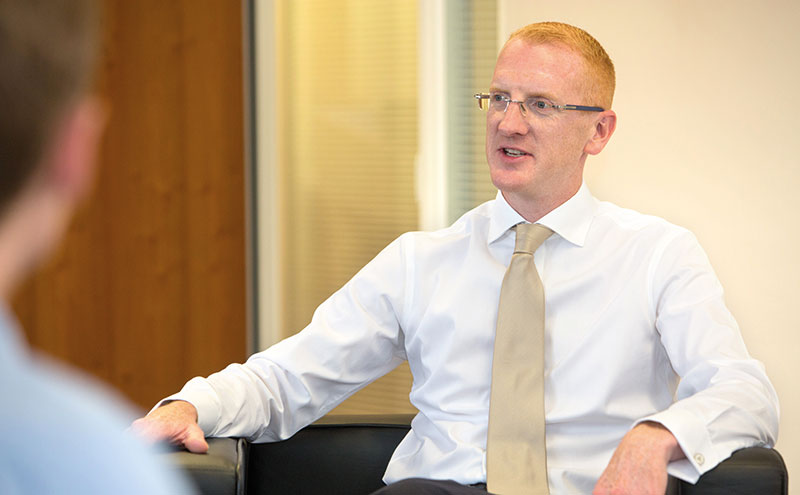 Project Scotland editor Gary Moug recently met with Considerate Constructors Scheme (CCS) chief executive Edward Hardy to discuss the organisation's Ultra Sites concept, which it hopes will improve standards throughout the construction supply chain and encourage a greater degree of collaborative working
THE Considerate Constructors Scheme (CCS) recently awarded Ultra Site status – the highest available level of attainment – to Robertson Group's construction of the new Aberdeen Exhibition and Conference Centre (AECC).
This was a landmark moment, as the project became the first in Scotland to receive Ultra Site recognition.
For the past 20 months, CCS has been piloting Ultra Sites as a concept on a range of projects throughout the UK. The idea is to create sites that act as a beacon of best practice and lead the way in terms of collaborative working and raising standards through the whole supply chain.
CCS chief executive Edward Hardy described the criteria which must be met as "pretty strict" and stated he'd be happy if around 1% of the 7,000 or so live sites that are registered with the CCS at any one time became designated Ultra Sites. He told Project Scotland the pilot has been an "evolving process" which has been refined and improved upon.
"We'd been looking at the future of the Scheme and how it could change to be more beneficial to the industry," he explained. "There were also many requests from subcontractors/suppliers/specialist subcontractors and all those working in the supply chain wanting greater involvement with the Scheme. A lot of people talk about collaboration and Ultra Sites is a great way of proving real world collaborative working."
On Ultra Sites, the CCS works with main contractors to help them work more collaboratively with their supply chains, to ensure the overall performance of the entire site is at the highest possible level.
A site can only become an Ultra Site when an agreed number of contractors and suppliers working on the project are also registered with the CCS.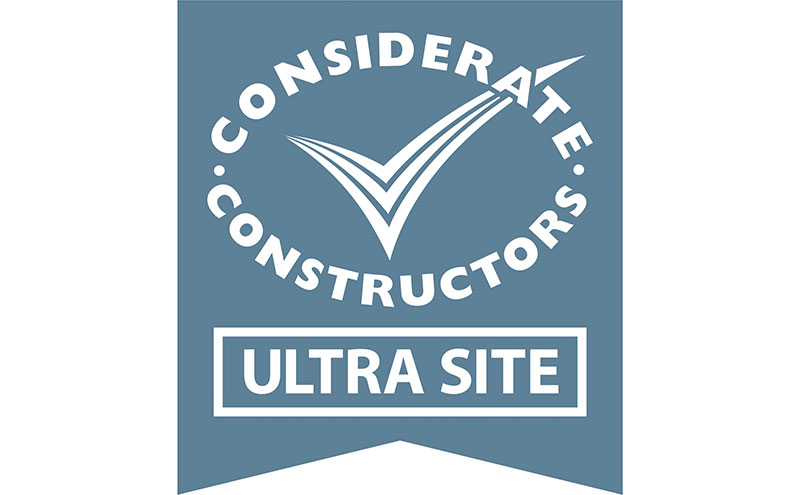 "Historically, as a Scheme, we visit the site, monitor the main contractor and off we go," Edward said. "We then have a third-party opinion about their performance. With Ultra Sites, it's the Scheme actually being more part of the team, working with the main contractor and also all those within the supply chain who have as much influence and involvement in the projects as all others.
"It's a great opportunity for us to stretch the influence of the Scheme within the supply chains with the understanding being that if we can get these companies engaged with the ethos of the Scheme, they'll hopefully take that ambition with them when they're working on other sites, and we therefore achieve our ultimate aim which is improving standards across the entire industry."
Edward said that, typically, one of the issues which arise on some construction sites is that subcontractors feel obligated to work in a manner that has been set up by the main contractor, even if it's not necessarily the most considerate for them. The CCS has adopted a mediation role on Ultra Sites whereby the organisation acts an independent voice with the ability to hear concerns and act upon them.
"Through the monitoring of the subcontractors and conversations with them, things come out which we can then 'anonymously' feed back to the main contractor," Edward explained. "Examples might include that the delivery structure doesn't work for some of the supply chain. So we're able to get more involved with the whole conversation which will ultimately help to make sites more efficient. We have no axe to grind and equally we have no allegiances, so for us to sit in the middle and (facilitate) a more open and honest relationship ultimately leads to improvements."
Edward is adamant the Ultra Site concept is far more than a box-ticking exercise. Due to the rigorous criteria set, firms commit to a wide range of standards. "There is a great expectation on the main contractor," he added. "This isn't just a branding operation; that's not what we're about. Part of the trial over the last 20 months has been developing the expectations about what a site should have to do to become an Ultra Site. We've now refined this to the point where we have officially launched this model. There's a comprehensive set of terms of reference and criteria that, pre-start, sites have to commit to. It has to be signed off at director–level within that main contractor company to commit to these standards before the Ultra Site status is awarded.
"The criteria are pretty strict and for many would be hard to achieve. The sites have to commit to a lot of things above and beyond what they would normally be doing with registering with the Scheme. That in itself creates a natural filter. We deliberately haven't made the opportunity to be an Ultra Site exclusive to the largest most high profile sites, because that would be unfair. An Ultra Site can be any size, any type, any duration, and any value. We're not elitist. They can also be anywhere in the UK and Ireland. We're not just London and the south east; we're an international scheme – having launched in Ireland earlier this year. It's open to anyone assuming they're happy to accept and to work to the Ultra Site standard.
"Interestingly, we're getting a lot of interest from clients. There's a retailer who is suggesting they want all of their sites to be Ultra Sites because they think ultimately it gives them a greater benefit as the client.
"We have about 7,000 live sites at any one time. If 1% of those sites were Ultra Sites – 70 sites a year – I'd be delighted with that. That said, I see the Ultra Site structure actually being the model we could morph into in the future."
One of the advantages of piloting Ultra Sites ahead of a wider launch is that it has allowed the CCS to analyse feedback – both good and bad – and make the necessary tweaks. "We had to get to a point where we could answer all the potentially negative points about why we're doing this before we launched it," Edward added. "That's why it's taken 20 months. Over that time we've got many things wrong. Originally we didn't know whether we were going to engage before or after the start of a project. It wasn't really on our radar. Now we know it has to be pre-start. How we know that is because on one of the pilot sites at the start, we had all sorts of problems with their cabins and the location and type they had chosen and we couldn't do anything about this. So here they were, a trial Ultra Site, and we had concerns because the cabins weren't of a (high enough) standard. We learnt through this and other experiences,  that we have to be involved pre-start and we absolutely have to have conversations about the facilities they're putting in place to make sure they are the very best based on the value and size of the site. For instance, with a billion pound site, we would expect the very highest standard of facilities. For a £10 million project we would have different expectations.
"We pushed a little bit too far in some areas. We didn't go far enough in others. One of the nicest things we learned was the need to develop a lot more around the benchmarking and performance measuring of the supply chain of subcontractor companies and the suppliers as well and how we cross reference all their performances and also providing more information back to them.
"Also, some of the Ultra Site pilot companies have come up with some wonderful ideas themselves around collaborative working, which we've now included as expectations in the final terms."
One example of this was that there is now the idea that a celebration should take place at the end of the project, whereby all those who have been involved – including architects, surveyors and engineers – will be invited back to mark the final outcome.
Edward believes the benefits of being an Ultra Site include recognition, learning from a different way of working and better communication processes.
"What we've actually produced is an off-the-shelf, workable, collaborative working model that encourages greater transparency of communication within a site. We're in a wonderful position to highlight to main contractors where they can change their working practices to help those in the supply chain, which I don't think anyone has done or been able to do before.
"Once Ultra Sites become recognised as the industry ultimate highest standard of performance, competitors will recognise that and it will become something that others we would hope would want to achieve. Part of the Ultra Site requirements is that they need to open themselves up as sites to other contractors. What the Scheme is all about is improving the industry and improving how the industry works."
At the heart of this is the desire to improve the image of the construction industry and help entice the next generation and career changers into the sector.
Edward said, "It's always frustrated me that within construction, we're all talking to each other about how we haven't got the best reputation but very few are talking outside. Part of this is about saying, 'Look, we do these phenomenally complicated things, we actually do them incredibly well, there are going to be issues because it's construction and it's not as simple as people might want it to be, but come and have a look at what we do and how we do it, you can only be impressed'.
"I regularly ask my friends who are not in construction about what they think it is like working in the industry and they still have this perception of grotty portable cabins, old caravans on sites and calendars showing topless women. I tell them (many sites these days) have healthy eating, restaurants on site, gymnasiums, recreational facilities, lockers, showers etc. But the public doesn't seem to know because we don't show them. Part of this absolutely is a way in which we start bringing those who aren't in the industry into construction and to use these sites as our shop window, as our showcase to say, 'Actually, this is what modern day construction is really like'.
"Ultimately I'd like to see these as places that are recognised as locations where people can come, whether it's other construction companies coming to learn, students or young people coming to see, whether it's influencing career changes; let's use these Ultra Sites as beacon sites for our industry."
Despite the traditional and old-fashioned reputation construction is sometimes charged with, Edward believes the sector's resistance to change is not what it once was.
"I've been involved in this Scheme now for 20 years and the first ten years was incredibly hard work because we were up against site managers and some companies who were absolutely resistant to some of our ideas. They saw construction as a macho activity. Whether it's our influence – I think it's broader than just our influence – generally as a society we have a higher expectation about how we're all treated these days. We're all a lot more sensitive to our environments and site managers coming through now in their 20s/30s/40s are more sensitive about how what they do influences and impacts on people and are far more conscious and considerate than ever before."
With new initiatives like Ultra Sites, Edward believes the key is proving the value. He added, "The true value at the core of Ultra Sites ultimately, and why it's been so well accepted so far, is that theoretically, conceptually – and over time I hope we're able to prove this – is that by having that closer collaboration with all those involved in the construction process, you'll have a more highly motivated workforce, less illness, less time off and greater efficiencies. Generally the motivation and atmosphere within the work environment should improve. If we can break down the communication barriers to make it an even nicer place to work, ultimately there are going to be efficiency savings, which lead to cost savings. We can't say that categorically yet but the murmurings within those who have been in the pilot is that there is a different atmosphere on the sites because it does feel a lot more like they're all working together because the Scheme forms that link."
The CCS was founded 20 years ago by the industry to improve its image. Sites, companies and suppliers who register must abide by the Code of Considerate Practice, which is designed to go beyond statutory requirements.
"It's very simple," Edward explained. "Construction works to a set of legislative requirements – a set of rules. We start where legislation stops and we go far beyond that. We look at three aspects of construction: the green environment and how you're being more considerate to it.  The workforce and how you look after those that are working on sites and in companies. The third area is neighbours and communities. Construction by its nature can have a negative impact on an area. But that should be limited to what is happening, not how it's done. None of us want to live next to a site that's upsetting us so let's turn that into a positive experience."
Referring to the skills shortages currently engulfing the industry, Edward said, "If there's someone out there looking at different career options, construction has to look like a really good option; it has to have a reputation as an industry which is known to look after its people and to reward them. If we want construction to attract the best people and the right people, we better be the best. We've got to prove it; you can't just say it. Image is one thing. You can project an image, but actually for us it's probably more about the reputation."
Edward is keen to move the CCS towards a point where its sites become recognised as an industry standard.
"Once we've made a change, anyone joining the sector after that works to that standard," Edward explained. "It's absolutely our responsibility to make the changes because every day more new people come into the industry and they just see it as the norm. The faster and harder we can push ourselves to improve the standards now, these simply become accepted working practices in the future. With this comes the challenge to say to the industry, 'we can do more'."