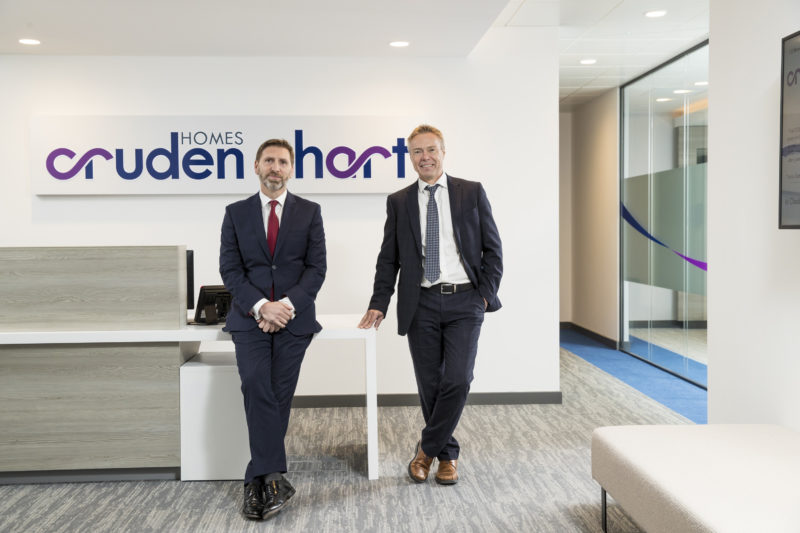 CRUDEN Homes East and sister company, Hart Builders, have rebranded and moved to the South Gyle Business Park in Edinburgh as part of the Cruden's Group's growth strategy.
The two divisions will now be centrally based in Cruden House, having previously been based in Juniper Green in Edinburgh and Macmerry in East Lothian, respectively.
There are currently 65 staff in the new office, benefiting from features including new recreational areas, high level desks for reviewing architectural plans, meeting rooms with AV facilities and a gym.
A new look for all Cruden Group divisions has also been unveiled ahead of the firm's 75th anniversary next year. The new brand identity has been described as highlighting both Cruden Homes and Hart Builders' individuality and each division's Group connection.
Steven Simpson, managing director of Cruden Homes (East) Ltd said, "These are very exciting times for us. Cruden Group has just recorded its 18th consecutive year of profitable trading with another annual increase in turnover, profit and home sales. Both Cruden Homes and Hart Builders continue to make a significant contribution to these results and this relocation puts us in an ideal position to maximise our continued growth and manage the expansion of our operations.
"Going forward, we benefit from a sound financial base and have a number of exciting projects at various stages of the planning process. With the quality and commitment of our people, this move gives us a strong footing to further develop our reputation and continue our growth in the east of Scotland."
Colin Macdonald, managing director of Hart Builders added "Being centrally based at South Gyle provides us with easy access to other Group companies, which in turn is already providing significant economies of scale that strengthen our operating capacity, enhance synergy and stand us in good stead for the Group's 75th anniversary in 2018 and beyond."