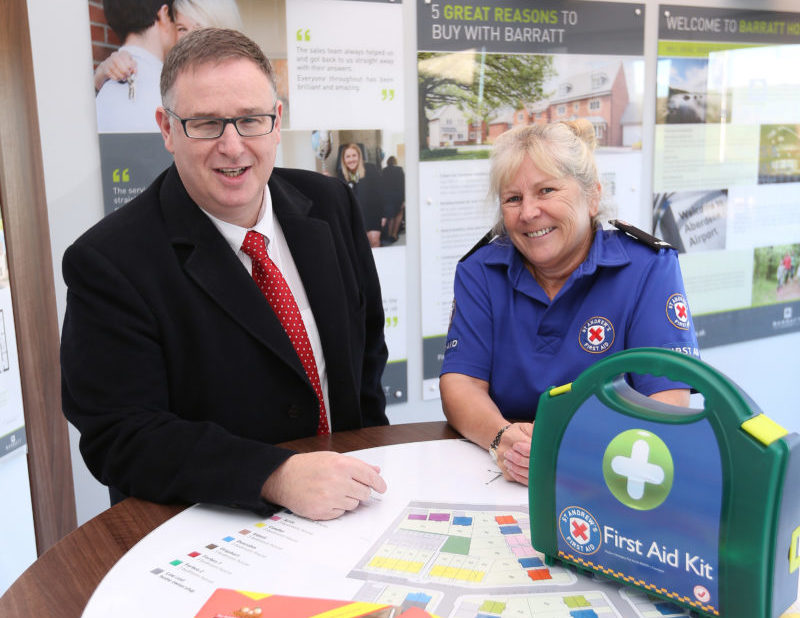 BARRATT and David Wilson Homes is at the centre of a new campaign to help prevent children having accidents in the home.
The housebuilder has teamed up with St Andrews First Aid, Good Egg Safety and regional community safety teams on the initiative. Barratt and David Wilson Homes said they decided to get involve after learning that over two million UK children under the age of 15 are hospitalised each year as a result of accidents in the home.
Mike Cowie, sales and marketing director at Barratt Homes and David Wilson Homes said, "Scottish communities are crucial to our business which is why we actively take our health and safety expertise into schools and share our knowledge of good safety practices with schoolchildren.
"However, as part of our research process, when we looked more closely at childhood accident statistics we found that the number of accidents at home had risen because children are spending more time playing indoors. That's when we decided to develop child safety at home practices for our customers to equip them with the necessary tips and skills they need to protect their children at home."
Barratt and David Wilson Homes are hosting a number of free events in its showhomes across Scotland, which focus on child safety and first aid at home. The home safety roadshow will also tour local parent and toddler groups.
The events will highlight common pitfalls and provide useful safety tips.
Jan James, chief executive of Good Egg Safety added, "We are delighted to act as one of the key partners for Barratt Homes and David Wilson Homes on the Child Safety at Home campaign and we commend them on this great initiative.
"Our award-winning guides will be available at a selection of the housebuilders show homes for parents to freely pick up and take home. As a parent and grandparent, myself, I was horrified to learn how many dangers lurk in our homes that many of us are completely unaware of; which is why we developed this guide.
"We are confident it will help parents to keep children safer within the home through making some really simple changes that can drastically reduce the potential of accidental and, potentially fatal, injuries."
Moyra Reid, St Andrew's First Aid commented, "Knowing the basics of child first aid and having the confidence to use them equips people with the ability to save a life. As Scotland's only dedicated first aid charity, it is our ambition to establish Scotland as a nation of lifesavers. That is why we were keen to get involved in this project with Barratt Homes and David Wilson Homes.
"We will be at the showhomes and the parent toddler groups throughout November and December teaching basic first aid training and would encourage any parents, aunties, uncles, friends, relatives and anybody in between, to pop down and learn some simple first aid skills. Hopefully you'll never need to use them but you will be helping to ensure any child in your care is kept safe in the home."