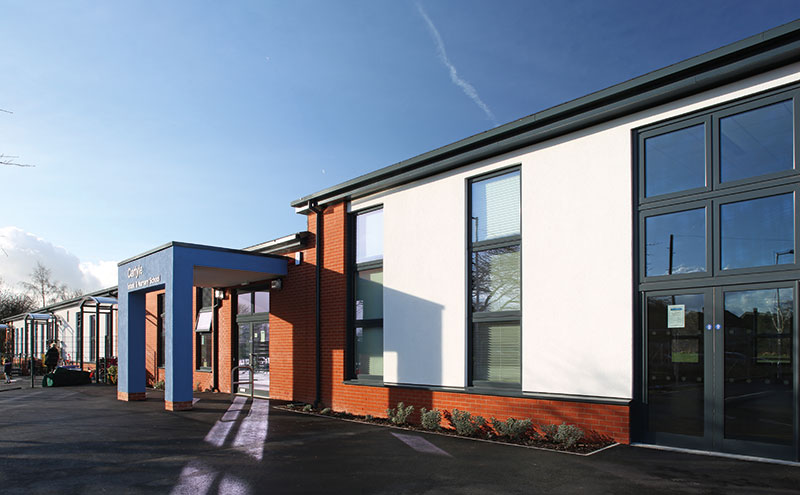 When it comes to specifying windows for education facilities, the learning curve can be steep owing to the growing requirement for schools to maximise sustainable design features and to be passively cooled. Andrew Cooper, national specification manager with fenestration designer and manufacturer Senior Architectural Systems, looks at how aluminium window systems can help meet the sector's stringent targets
NATURAL LEARNING ENVIRONMENTS
Faced with the need to minimise the use of central heating systems and air conditioning within schools, specifiers must look at alternate solutions to control the internal temperature of a room.  Thermal mass, which refers to a building's ability to absorb and store heat, is now a key part of school building design and is most effective when combined with appropriate ventilation and shading.
Windows are an obvious way to maximise the flow of natural light and fresh air and to combat the problem of overheating, night time ventilation and the use of trickle vents can help remove any excess heat and carbon dioxide.
When it comes to U-value ratings, less is more and the lower the figure, the more heat is retained. The U-value of a window system is dependent on a number of factors including the frame material, the type of glazing and the use of a warm edge spacer bar, which provides the space and insulation between the two or three panes of glass.
CONTROLLING CARBON
In addition to lowering the overall costs associated with the heating and cooling of a school building, specifiers also need to reduce the overall carbon emissions of a project. The development of aluminium window systems that offer low U-values but are competitively priced are providing the ideal solution, with recent innovations such as Senior's PURe aluminium window system potentially enabling carbon savings of up to 3% to be made. The project team can then look at making monetary savings in the overall build cost by reducing the need for other, often more expensive, sustainable features such as photovoltaic roof panels or under floor insulation.
IN THE FRAME
The characteristics of aluminium frame window systems also make them ideally suited for use in school environments. Robust and durable, aluminium frames are easy to maintain and are fully recyclable. High performance frames that provide exceptional thermal performance and require minimal maintenance can also be a cost-effective alternative to using energy efficient triple-glazing which, when used in a high-traffic environment such as  school, has a higher risk of breaking and would be more expensive to replace.
DESIGN FLEXIBILITY
The unique requirements of a school environment also influences the size, shape and positioning of windows.  For example, it is vital that all window openings are both safe and secure, particularly at low levels to prevent falls or trapped fingers.
Windows must also be of a significant size to provide adequate daylight penetration to reduce lighting costs but also need to be easily operated and controlled by occupants, either via automatic or manual controls, to avoid excessive solar gain.
The development of thermally-efficient aluminium window systems has provided specifiers with the additional advantage of having greater flexibility in terms of the positioning of radiators. Traditionally radiators would be installed in the coldest part of the room which would usually be along an exterior wall where cold air would enter via the windows.
The use of more thermally-efficient windows removes these limitations, allowing greater freedom when planning interior layouts.