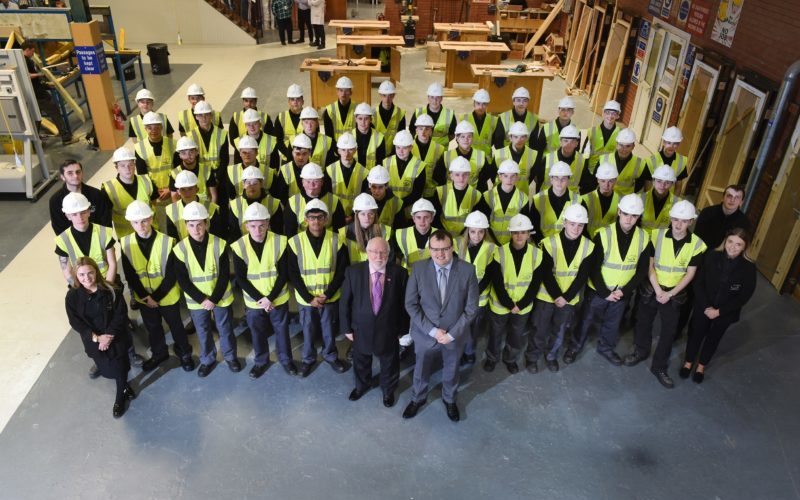 MORE than 60 modern apprentices have joined Glasgow-based construction firm City Building.
The group, which includes four women, care leavers and a number of people from surrounding BME communities, were recently greeted by City Building's directors following an induction at Queenslie Training Centre.
The intake includes two best friends and two brothers. Friends Adam Caddell and Cameron Barrett (both 17) met on the football pitch aged eight. After attending secondary school together, City Building said the pair became inseparable and will now join the same carpentry and joinery apprentice course.
They will be joined by brothers Lewis (16) and Fraser Scott (19) who were recruited with support from Wheatley Group, which now jointly owns City Building (Glasgow).
Lewis has entered the training programme straight from school, while Fraser is embarking on a career change after spending the past few years in retail.
The boys are among the first to join City Building as apprentices since Wheatley Group became a joint owner of City Building (Glasgow) earlier this year.The organisation has since developed new training resources and is attracting school leavers through channels including Glasgow City Council's Glasgow Guarantee Initiative and the Wheatley Foundation, Wheatley Group's charitable trust.
Gordon Sloan chair of City Building (Glasgow) said, "With around 245 apprentices already on the payroll City Building offers excellent employment opportunities and helps construct bright futures for young men and women pursuing a career in construction. Joining forces with Wheatley Group has only worked to strengthen the opportunities we offer across Glasgow.
"Many of these new recruits will go on to deliver vital work across the city, including in maintenance and repairs services. By investing in the next generation of tradespeople, we are strengthening our commitment to the hundreds of tenants who rely on us and ensure that we are effectively equipped to meet their needs."