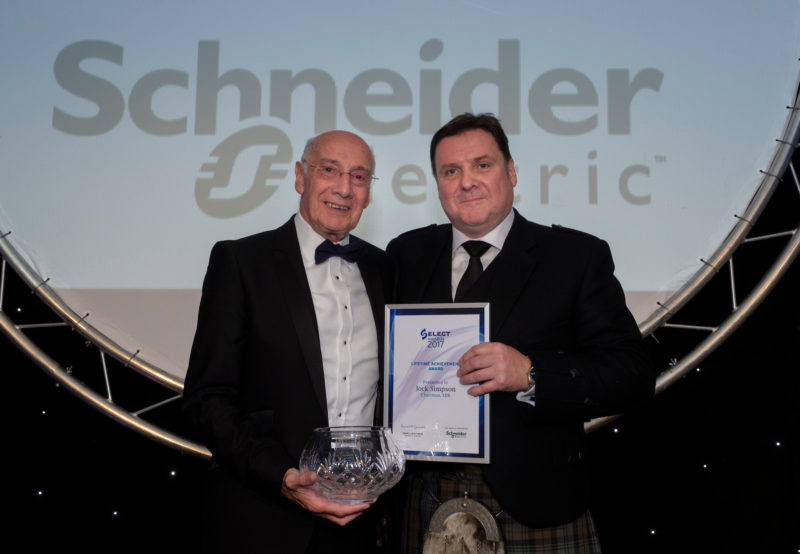 THE brightest sparks in Scotland's electrical sector have been celebrated at an awards ceremony hosted by SELECT.
The organisation said the "forward-thinking nature" of the industry was reflected in the variety of award entrants.
Taking the top SELECT award was a firm that was established only a year ago. Named Electrical Contractor of the Year, Servest Arthur Mackay Ltd was formed when facilities management services provider Servest acquired Edinburgh-based building services contractor Arthur Mackay.
The new company was also declared joint winner of the award for the Best Use of Training.
Newell McGuiness, SELECT MD said, "Each year, it is a much-anticipated pleasure to recognise the dedication, commitment and investment in the future which companies bring to this competition.
"As they do in their day-to-day business dealings, they have gone the extra mile in these awards to demonstrate that the electrical sector in Scotland is in good hands and is continuing to burnish its reputation for quality, skill and excellence."
Mr McGuiness, who is stepping down next year after 12 years in the role, was presented with a special award honouring his service to the organisation.
Jock Simpson was given a Lifetime Achievement Award at the event. He is executive chairman of the National Joint Council for the Engineering Construction Industry, a partnership between trades unions and employers, and chairman of the Scottish Joint Industry Board, a partnership between SELECT and Unite the Union. Mr Simpson has also held senior roles with organisations such as British Energy and npower.
Newell McGuiness said, "Jock Simpson has worked tirelessly throughout his career to enhance employee-employer relations and has had to exercise the judgement of Solomon in often very testing situations. His skills in industrial relations, negotiation, change management and strategic planning have often been instrumental in keeping competing parties together, agreeing on difficult issues and seeking compromises.
"He has taken on heavy responsibilities, reached to the top in a variety of different areas and has always acted in the best interests of everyone working in the industry, from shop floor to boardroom."
Other awards were:
Best Small Contractor, won by Glasgow electrical company Interlink Lighting and Electrical.
Apprentice of the Year, won by Jordan McBain, from Elgin, who works with Highland company G & A Barnie Building Services.
Wholesaler Apprentice of the Year, a new category, won by Kellan Pirie, from Inverurie, who works with Electric Center.
Best New Product, won by South Manchester-based Wylex, for its consumer units.
Best Delivery of Customer Service, won by Lanarkshire-based Crown House Technologies.
Best Visual Promotion, won by Edinburgh-based AKD Systems.
Best Electrical Safety Product, won by Glasgow firm Edmiston Brown for its work on the Falkirk canal tunnel.