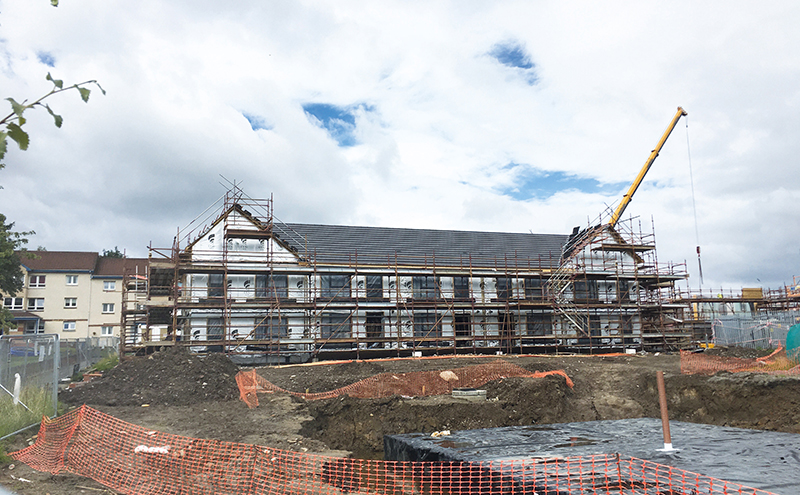 THE installation of the final timber superstructure marks an important milestone in the construction of a new housing project in Barlanark, Glasgow.
The 43-home Burnmouth Road development is being constructed by CCG (Scotland) Ltd for Glasgow Housing Association (GHA) and will be let and managed by Lowther Homes. GHA and Lowther Homes are both part of Wheatley Group.
CCG started works in May and are due to commence the installation of the timber superstructure to the final block of homes in October. Three of the eight blocks in total have been fully completed externally with the use of the CCG iQ enhanced closed panel timber system.
Designed and manufactured offsite in the Cambuslang facility, CCG OSM, the system is delivered to site complete with pre-installed insulation, service zones, windows and doors. CCG said this ensures "quality and rapid speed of construction" as well as offering "excellent" thermal efficiency properties.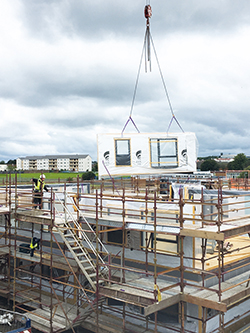 Calum Murray, CCG director said, "CCG is delighted to continue our work with the Wheatley Group on their mid-market rent programme. The benefits of using our enhanced timber frame system are there to be seen with precision quality, excellent environmental efficiency and onsite, as shown by the works at Burnmouth Road, a significantly faster speed of construction."
Burnmouth Road is one of three mid-market rent projects where CCG and Wheatley Group are onsite together with a combined 150-unit total. This includes the conversion of the former Bell Street Stables in Glasgow's Merchant City and 55 of the 111 homes at Craigmillar, Edinburgh, and the first phase of housing at the Craigmillar Town Centre Masterplan. The Bell Street project is being delivered for GHA and the Craigmillar homes for Dunedin Canmore. When completed, both developments will also be let and managed by Lowther Homes.
Tom Barclay, group director of property and development at Wheatley Group added, "Our mid-market programme is an important part of our growth strategy and will provide affordable homes across Scotland. We're delighted to see the homes at Barlanark in Glasgow taking shape and look forward to the completion of this and the two other projects being delivered for us by CCG."
As part of Wheatley Group and CCG's approach to community benefits, a number of initiatives will be delivered as a result of the project. As well as opportunities for new entrants across site-based roles, there are work placements for people from the local community.
Four of the 22 trade apprentices that joined the CCG Group this August as part of the company's annual trade apprentice intake, will be based at the site for the first of their four-year apprenticeship programme across bricklaying and plumbing trades.
Burnmouth Road is due for completion in summer 2018.