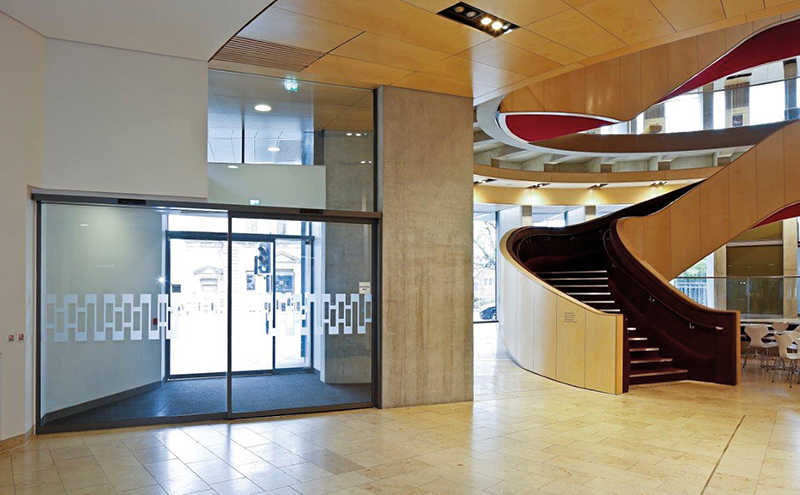 A strong product, workforce and service capability sounds like a good basis for any business targeting growth and expansion.
Martin Revie, who was appointed general manager for GEZE UK in Scotland earlier this year, claims that's exactly what he's found since taking up his role.
Martin joined the doors and windows specialist in March and is overseeing a number of changes at GEZE's Scottish HQ in Cambuslang, including a redesign of the existing factory and the installation of new equipment.
The Scottish market is of strategic importance to GEZE UK, with the business having completed a number of high-profile projects north of the border including the installation of automatic sliding doors to create an entrance lobby on either side of the new foyer at the historic Theatre Royal Glasgow and the incorporation of stylish revolving doors into the glass and stainless steel frontage of the entrances to the award-winning City Campus at the City of Glasgow College.
Martin believes the market here is "buoyant" right now, creating ample opportunities for growth.
"I've always been aware of the company," Martin told Project Scotland. "I was in construction at Lareine Engineering and prior to that I worked down in Birmingham for a company called Jet Cox (a rooflight manufacturer). Through the construction industry and some of the products, I was aware of the company and it looked like a good opportunity.
"The market in Scotland is obviously fairly buoyant now; a lot of education projects are about to kick off or have just recently started. It looked like a really good opportunity in an expanding market.
"In terms of the UK, it's important for GEZE to have a foothold in the Scottish market."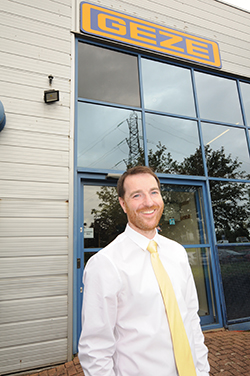 Martin explained that the Scottish base was previously operated by GEZE UK as a satellite-type office. With him taking on the newly created role of Scottish general manager, he believes the business will benefit from having a dedicated Scottish boss.
"I think it's important that the Scottish office stands alone and becomes accountable in its own right," he explained. "Prior to me joining, GEZE UK certainly saw the Scottish market as one for growth and expansion. The group see it as a key area.
"I think it's important to have someone here who understands the Scottish market; who understands the Scottish customer base and is here to make the right commercial decisions for the business and for the customers; somebody who's local and here to lead the team, both in terms of current jobs but also future development of both individuals and for the company.
"We've been here in Cambuslang for about five or six years. The company took the unit next door on about a year ago (as part of an) expansion. The location is ideal for north, south, east and west; we're perfectly based just off the motorway. The majority of our business is across that central belt but we do a lot of other work as well in the north east and Inverness.
"We're in the process of renewing and extending the lease on these premises. We've decided to stay here; we're making a number of big changes. We're looking at changing things about in the factory; we've got new equipment coming in. A lot of it is to do with the processes in the background and getting them right. We're looking at redesigning the factory; creating a better working space and a better flow through the factory. We've got a sales team now that is established with the company. We've got a specification team and just recently we've appointed a UK specification manager. We're now targeting architects, end users and clients with our products. We have a sales team both for the automatics and also for the supply only sides of the business. We've got a good coverage now of all the routes to market.
"We have 22 employees in Scotland; 14 on the contracts side and eight on service. They have welcomed (my appointment). The majority have been here a long time. There's continuity and a lot of very experienced people in the manufacturing/sales/technical side and the after-sales. When we have such a technical product, like push pads, radar senses and clean rooms in hospitals, it can be a complicated set-up so it's important that we have the experience.
"We're currently involved in a number of new build schools and in the new Royal Hospital for Children in Edinburgh. And we've just finished a job for Ulster Hospital over in Belfast; that was a long project."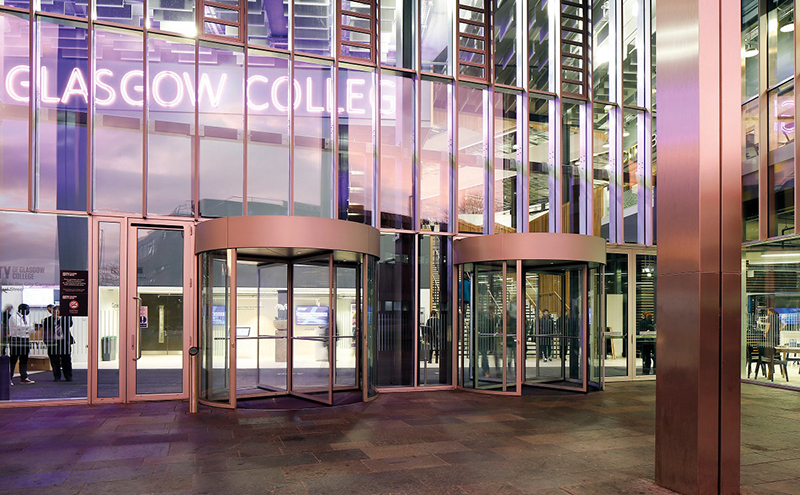 Martin said GEZE stands out in a competitive market thanks to a number of factors. "In general we're seen to have a very good product and we're seen to be market leaders certainly in the industry," he said. "As part of a European group, with our head offices in Germany, we're seen to be a European market leader. I would say we have exceptional quality. We've got some very good fabricators in Scotland who have been in the aluminium industry and have an awful lot of experience. We have a very good quality product and I would say we have a very good service, both pre-installation and after-sales from both our contracts and service operations.
"South of the border we've just had a fantastic year. GEZE UK surpassed its budget. It's been a very good year for the UK in terms of growth for order intake and sales. The UK market is very strong both north and south of the border despite Brexit."
Martin admitted the UK's decision to leave the European Union has had only one negative consequence for the business so far. "The only (impact) is the strength of the pound," he said. "We're procuring from Germany so the exchange rate has affected the business. But other than that, we've not seen any negative signs.
"We're finding the market very busy, both on an enquiry level and also order intake. It is a niche market. It's fairly competitive; there are a number of big players. It is competitive, which is why you've got to be able to offer the whole package from product to service both pre and after-sales."