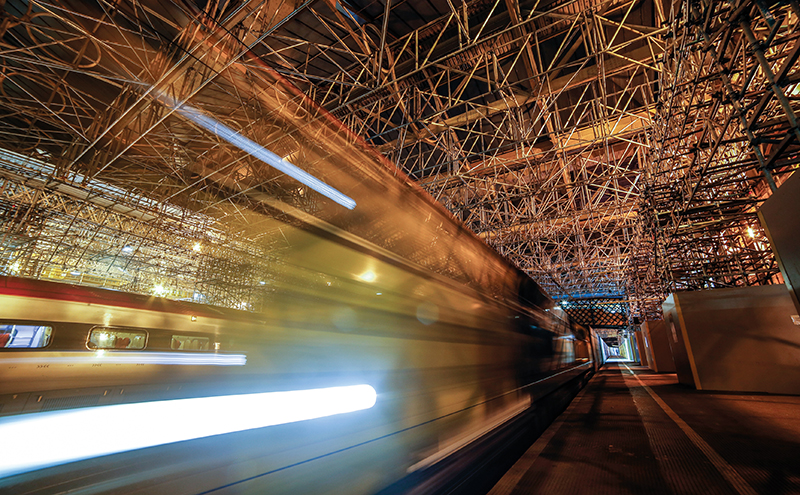 PALMERS Scaffolding UK Ltd has been playing a leading role in the refurbishment works at the historic Carlisle Railway Station in Cumbria.
The firm has been providing scaffolding, public protection decks and access solutions for principal contractor Galliford Try on the project, which aims to refurbish the train-shed roof, maintain the station and extend the property's life by at least 30 years.
The in-house designed, 1,400-tonne scaffolding temporary works began at the Grade II listed building, which forms part of the Carlisle conservation zone, early last year.
Palmers said large sections of the roof had been damaged, partly by seagulls, which had broken many of the historic glass panels by dropping stones.
These panels are being replaced with Ethlene tetra fluoro ethylene (ETFA) options.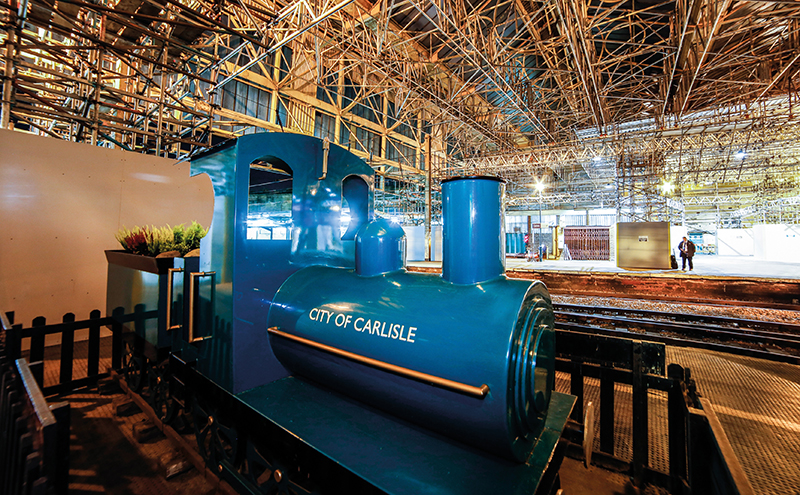 The Palmers scaffold has been required to provide access and protection decks and is 47m in span and 160m long, spanning 13 roof bays and the platforms below to create a working level 9m above the ground level.
The scaffolding contractor said it has been created by more than 20 advanced scaffolders, with additional support by Palmers management and supervisors. The modern access solutions will enable the historic roof to be refurbished, including glass removal and reconstruction together with steel repairs where necessary. The scaffolding is based on modular access and protection scaffold systems bespoke to Palmers. The firm described the "key component" within the scaffold structure as 'Palmers 1350 Bridge Panel System' – which incorporates bracing and end panels, so the components can be used in either beam structures to span the railway or support columns to provide bases for the protection decks.
The Palmers bridging panel system has been used to help design a scaffolding structure which can span the railway lines. Palmers said this system allows the works to carry on without interfering with the running of the railway – as well as protecting the commuting passengers and railway staff who operate within the station, which accommodates more than a million passenger movements every year.
All scaffolding works over the tracks' electrified OLE System have to be erected during at night, which restricts the working time to five hour windows, starting around midnight.
The Palmers design and construction team developed a scaffolding structure and solution that could be partially erected away from the main rail line to help minimise the risk of working at height and improve productivity by carrying out works away from the railway environment outside the short night time windows.
Lindsay Harle , Palmers Scaffolding UK Ltd director said, "Palmers have been the scaffolding contractor of choice on some of the most significant railway station refurbishments in the UK – from St Pancras in London to Waverley Station in Edinburgh. And we are delighted to have been given the opportunity to support Galliford Try in the contract at Carlisle and look forward to a successful completion of this contract and working together successfully on many more projects thereafter."
Managing director Donald Morrison added, "We at Palmers are proud that our people continue to make the difference. This is evident in the scaffolding works we have delivered safely during the erection phase at Carlisle, whilst minimising the Working at Height, through utilising the 'Palmers 1350 Bridge Panel System.' We look forward to a safe successful completion of the works at Carlisle."