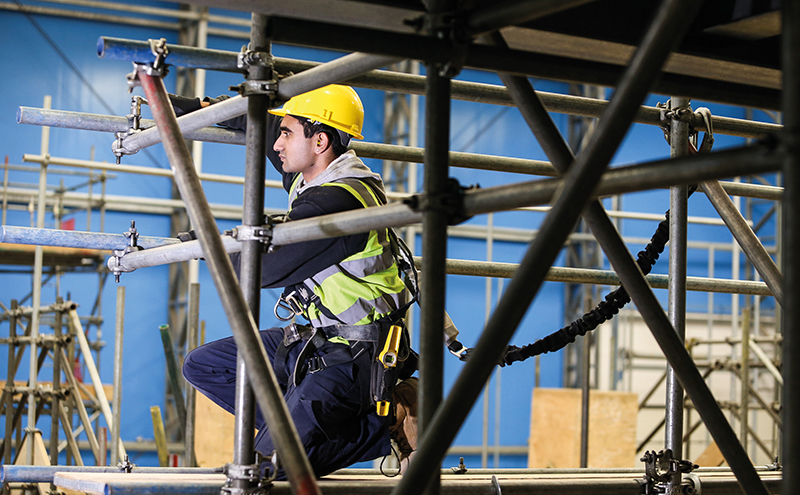 EARLY feedback on the CISRS Continuing Professional Development (CPD) training has ben positive, with organisers hailing the courses a "huge success".
Following lengthy discussions on the issue within the industry for many years, CISRS announced last year that from summer 2017 a two-day CPD course would be introduced,  which would become a mandatory requirement prior to scaffolder or advanced scaffolder card renewal.
With the help of four accredited training providers – LTC Training Services Ltd, National Construction College, Safety and Access Ltd and Simian Skill Ltd – six funded courses were offered across the UK at centres, including at Inchinnan, near Glasgow.
The initiative was launched in July and free places were provided on a 'first come, first served' basis to scaffolders and advanced scaffolders who were due to renew their CISRS cards before the end of the year. CISRS said around 70 operatives snapped them up.
The courses attracted interest from a range of sectors and featured a mix of attendees from large and small firms as well as self-employed workers.
The aim of the CPD training is to ensure relevant workers are up to date with the latest legislation and industry guidance at the point of card renewal.
CISRS added that there is a "range of information which is relevant to all elements of the scaffolding sector". The organisation will review the course "periodically" to ensure it remains relevant.    
Dave Mosley, CISRS scheme manager said, "It was really positive to see such a diverse group of scaffolders attending these courses from both large and small, National Access and Scaffolding Confederation (NASC) and non-NASC companies, the feedback has been excellent."
CISRS reported several centres have experienced a "good response" to the CPD introduction and are arranging for extra courses to meet demand.
One attendee was Scott To, from Hewaswater Scaffolding Ltd. He said, "The content was very good and it covered most aspects of our business nicely.
"Initially I was sceptical, we had a wide range of scaffolders with a huge amount of experience on the course yet I can confidently say we all learned something."
The CPD courses will usually cost around £250-£300, however several of the CISRS providers are currently running introductory offers. All companies paying CITB levy will be able to claim attendance grants of £50 per day for those completing CISRS CPD.
NASC has set up a funding programme which will offer an additional £125 for member companies who support their employees and renew their cards through the CPD process.