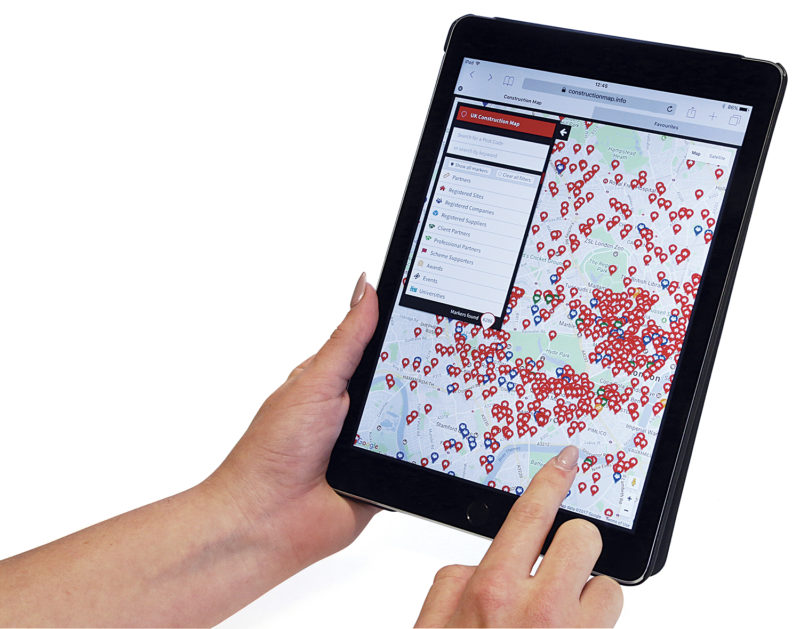 CONSIDERATE Constructors Scheme (CCS) has launched a new interactive map of construction, which offers a single point of reference for activity in the UK and Irish building sectors.
The resource – which is available to both industry and the general public – gives users the opportunity to see what is happening in the construction industry, with the map outlining thousands of 'map pins'.
Visitors to constructionmap.info will be able to:
Identify location, project name, client name and site contact details of all CCS-registered Sites, Ultra Sites, companies and suppliers.
View details of scheme partners, supporters, professional partners, events and national award winners.
Search for universities and other educational institutions offering construction-related courses.
CCS said that, in time, the map will be developed to show training locations and industry activities – such as Open Doors and CITB events – as well as the opportunity to interact with those listed and to get updates and feedback on construction activity.
The initiative is also intended to act as a resource for industry to display jobs and apprenticeship opportunities, provide contact details on projects and promote success through CCS National Award logos and star ratings.
Edward Hardy, CCS chief executive said, "Launching the very first interactive construction map is a massive achievement for both the industry and the wider public. Constructionmap.info provides an easily usable resource to find out what's going on and where right across the UK and Irish construction industries. Not only does it provide a single point of reference for the entire population, it gives those committed to improving the image and reputation of the construction industry an opportunity to showcase their projects and be able to demonstrate what they are doing as considerate constructors.
"At this stage, resources available within the map provides a great starting point, which, over time will be expanded. The Scheme looks forward to continuing to spearhead the development of constructionmap.info to grow its functionality and reach in becoming a central resource for everyone interested in construction activity in the UK and Ireland, and beyond."