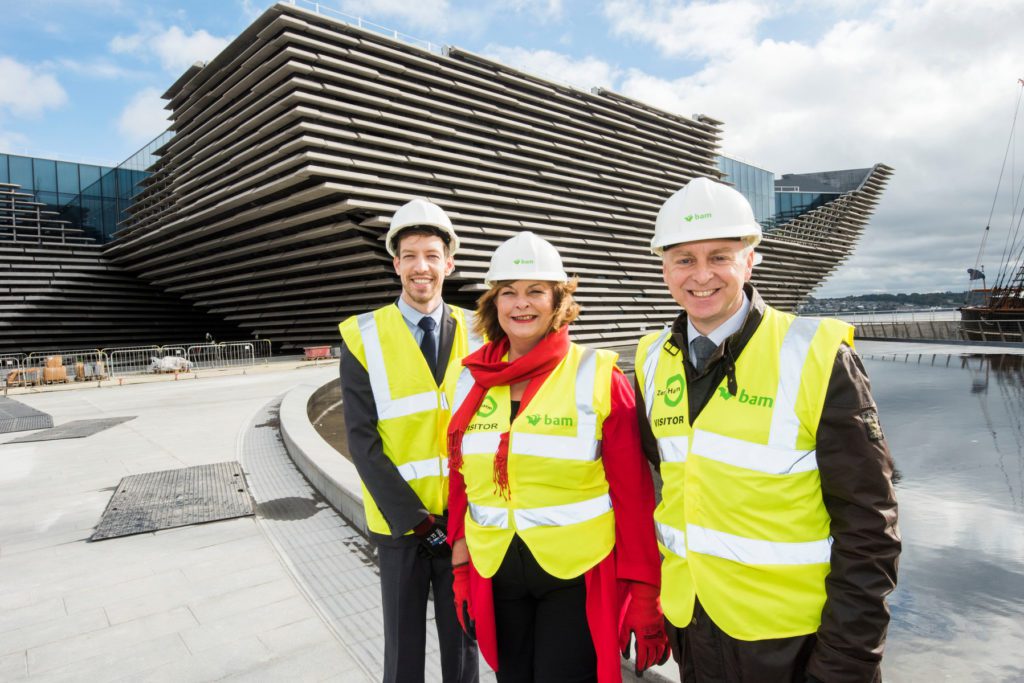 The Cabinet Secretary for Culture, Tourism and External Affairs recently returned to the V&A Museum of Design Dundee to see how work is progressing.
Fiona Hyslop MSP attended the official ground-breaking ceremony to mark the start of construction in March 2015 and upon returning, became the first Scottish Government Minister to see inside the museum building.
Hyslop toured the site with V&A Dundee director Philip Long and representatives of Dundee City Council.
The Cabinet Secretary for Culture, Tourism and External Affairs commented, "I am really pleased to be here in Dundee today to visit the V&A Museum of Design.
"The Scottish Government has been a long-time supporter of this project, which is set to attract further inward business investment and promote tourism growth in Dundee, across the region and throughout Scotland.
"Both the museum's opening in 2018 and Dundee's bid to become European Capital of Culture 2023 will give a welcome boost to the city's tourism and culture economy, further promoting our cultural and design heritage and benefitting the whole of Scotland."
Dundee City Council leader Councillor John Alexander said, "I am delighted that the Cabinet Secretary has had an opportunity to see for herself the impressive progress that has been made on this stunning building.
"We are a city with big ambitions and V&A Dundee is already attracting huge interest and is creating excitement across Scotland and beyond.
"Our bold bid to become European Capital of Culture 2023 highlights the drive and determination locally to use the arts as a way of creating economic and social benefits.
"The development of V&A Dundee is a symbol of how the city is reaching out to tell its story to a wider audience."
Philip Long, director of V&A Dundee, added, "Scotland has been a nation of incredible design creativity for centuries, but many of these stories are unknown or underappreciated within our own country.
"V&A Dundee will showcase this incredible history, helping to inspire new creativity in our schools and communities.
"Through working with our colleagues in the V&A, we will also bring world-class exhibitions to Scotland, putting Dundee on the map as an international tourist destination – and attracting hundreds of thousands of visitors each year."