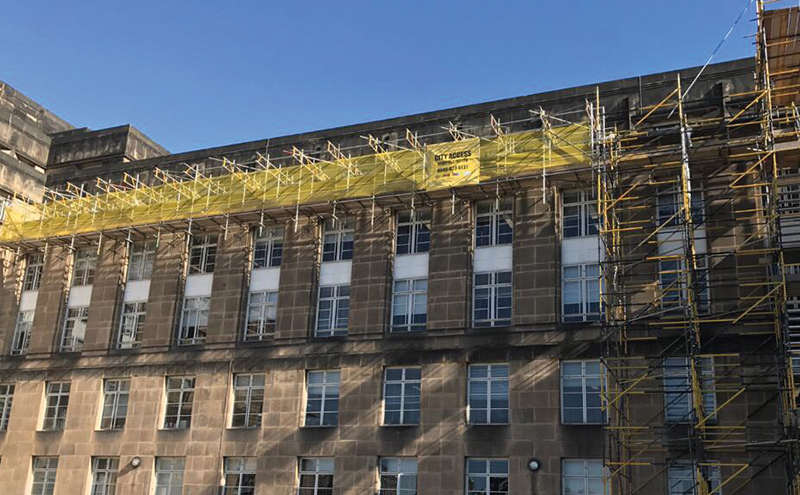 EDINBURGH-based City Access Scaffolding has been involved in a project at the Capital's prestigious St. Andrew's House, the headquarters of the Scottish Government.
Main contractor M-Pact Building Services is carrying out specialist stone repairs that require access to high-level parapet stone areas. A traditional approach would have required a "massive" scaffolding footprint, which could be deemed a security risk at a potentially vulnerable site.
Taking this into consideration, City Access designed an alternative method consisting of a cantilever drop scaffold, which resulted in a client saving of over £16,000.
Jonathan Allan, director of operations at City Access Scaffolding, told Project Scotland, "We're doing a cantilever drop scaffolding/hanger for the repointing of the old stonework with a lime mortar.
"We couldn't build from the deck up because we couldn't tie it to the building or put any holes into the building; so we came up with the idea that we would hang it all from the top and work our way down.
"It's a tube and fitting cantilever with four-metre alloy beams in it. There are 28 four-metre alloy beams on one part and then you just put tube droppers on the end and you go down your T-piece and then you build the scaffolding square from that – so you're actually hanging in the air, building a scaffolding."
Jonathan said that using this method led to a reduced cost for the client, a smaller footprint and a more secure site overall. "We couldn't build a buttress because the scaffolding would have to have a massive footprint," he added. "(There were) no ties on the job, so it meant the scaffolding would have had to go right into the car park, so it saved all the car park spaces.
"At the back it was not really an issue but if you were to have scaffolding at the front, people would maybe climb it up to the building."
Jonathan continued, "Probably the hardest part was getting material to the job because it's a lot of manual handling. We're using a role and wheel system where we have to pull the material up and then up to another roof and then down a roof, so that's quite challenging."
Any scaffolding that made contact with the stonework needed to be covered with a rubber or plastic cap to ensure it did not damage it.
"There's quite a bit of work to do still," Jonathan said. "We've got a big birdcage freestanding scaffold in the middle of St Andrew's House that's got to be done, that's got to be about 18 lifts of scaffolding. Again, we can't tie on to the building."
The project is due for completion in six months. The company has a team of six working on the project including CISRS trainee scaffolders Peter Ward (43), Sean-Paul Ritchie (30) and part one scaffolder James Ritchie (33). Jonathan explained that traditional tube and fitting scaffolding was specifically used to allow the team to gain hands-on experience with the method.
James Ritchie said the job had been brilliant: "I've been doing it for ten years and I've never done a job like that.
"We've still got a fair bit to do. The more the better; the more experience, the more learning for us. I'm enjoying it."
"You're learning different stuff everyday, completely different to what you see at college," said Peter Ward. "There's quite a lot of stuff to take in as well. All the sizing that you have to do; to make sure it is spot on."
Sean-Paul Ritchie added, "I'm going to college in December to start my Part 1 training and it's all tube and fitting so it's benefited me that way. I'm delighted; I love being on this job – it's the most interesting one and what a view!"
Jonathan added, "I'm an advanced scaffolder and I'm here overseeing the job. It's a really good experience for them and they're hanging the scaffolding. You don't do that many places; it's a good opportunity to work with tube and fitting on an advanced job."
City Access was previously involved in works on the site on low-level scaffolding for M-Pact Building Services.
Claire Wright, director at M-Pact commented on working with the firm, "We have used City Access Scaffolding for the past few years and the service we receive from them is nothing less than excellent.  As a client, we look for a company who can provide us with excellent customer service, who are helpful and give invaluable support when we need it.
"We are a thriving business in a fast paced industry and often our requests can be made at very short notice.  City Access always deliver a quality service and go above and beyond the call of duty, with minimum fuss and maximum efficiency, to ensure our needs are met every single time."