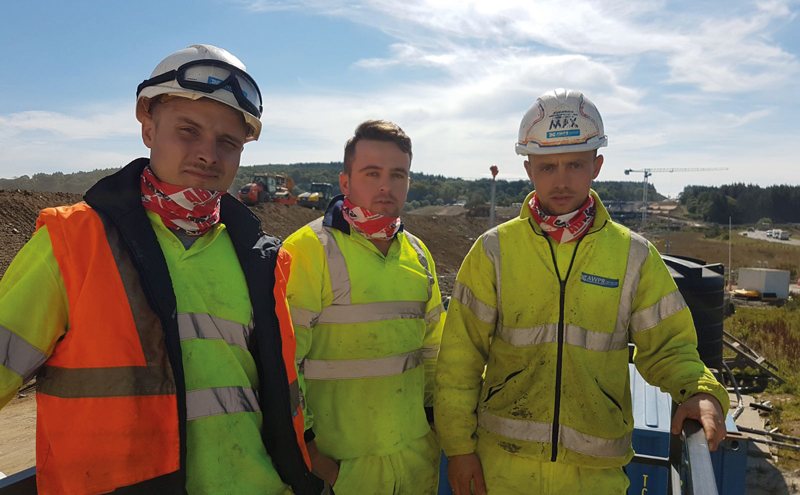 AN Aberdeen-based social enterprise is manufacturing a scarf it believes is the "perfect accessory" for construction sites.
Social Stuff is the creator of the SQUAD, a 'snood'-style scarf that can be worn in several different ways. Already well established among Scottish sports fans, the enterprise manufactures official scarves for the country's international football and rugby teams, as well as many Scottish Premier League football teams and the Edinburgh and Glasgow rugby sides. The enterprise is also the official merchandise partner for the charity Kiltwalk for 2017.
Now the SQUAD is piquing the interest of those in the construction and oil and gas sectors. Social Stuff managing director, Collette Norval, told Project Scotland they were recently approached by an oil company in Aberdeen that wanted them for staff. Social Stuff is now in talks with housebuilders and other oil firms about the possibility of creating the scarves for their workforces.
"My dad's a joiner himself and said for guys on site these are actually such a good product for either wearing under a helmet or when you're exposed to all the elements," Collette explained. "And if you could get them branded up, they would be a perfect accessory for construction sites."
Collette added that because the scarves are manufactured in-house from scratch, there are no minimum order quantities, allowing businesses to order smaller runs.
Former oil and gas executive and board member at Aberdeen Football Club, Duncan Skinner, founded Social Stuff in 2016 through the Skinner Charitable Trust. 100% of the profits generated through the SQUAD scarves are reinvested into the Trust to then be donated to charities.
Collette added, "We manufacture everything here in Aberdeen and the idea behind the social enterprise is that we give 100% of our profits to charity. But we wanted to manufacture here as a way of creating employment opportunities within the city as well."
The 100% polyester tubes have been treated with Silver Plus antimicrobial silver ion technology to prevent the growth of mould and bacteria and are quick drying, the enterprise claims.
Collette added, "The idea behind it is when it's cool outside, they keep you warm and when it's warm outside, they cool you down by wicking away sweat and moisture."