REIDVALE Housing Association (HA) in the Dennistoun suburb of Glasgow, turned to spray applied installation specialists Icynene for a solution to the insulation of a number of difficult to treat flats under their control.
Reidvale HA manages over 900 houses and flats in Glasgow's east end, many of which date back to Victorian times.
At the end of 2016, Reidvale began an insulation assessment programme in conjunction with John Gilbert Architects' Hab-Lab project, which looks at improving the longevity of housing stock while reducing fuel poverty for tenants. The focus was on three of their older, ground floor flats with the aim of finding the best way to insulate them and reduce heating costs to improve living conditions for residents.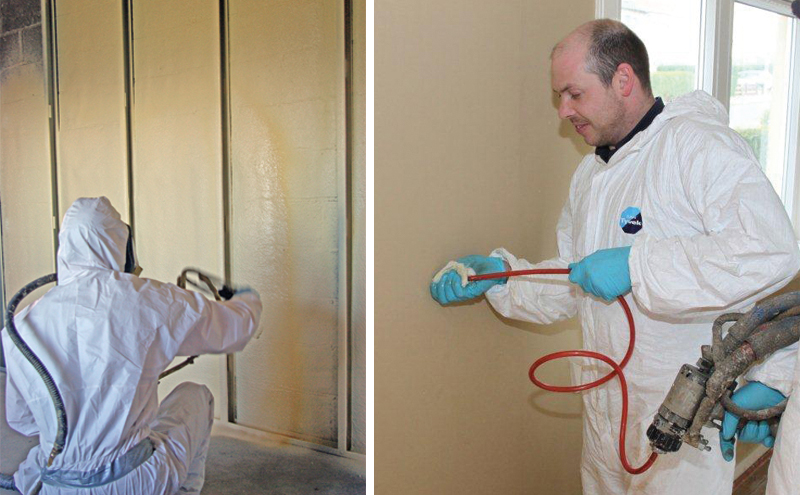 Michael McMenamin, Reidvale HA maintenance manager explained, "We chose three of the most difficult to treat properties for the trials. They are all ground floor flats in pre-1919, stone-built tenements, which have solid outside walls and virtually no insulation. Plaster-boarded stud walls had been fitted during improvement in the 1980s but this did little to slow the heat loss. Fuel usage for the gas central heating systems was pretty high.
"The plan was to insulate the stud walls and underfloor voids and reduce air leakage to a minimum. Air leakage is one of the main sources of heat loss and we are aiming to reduce these conditions as far as practicable. Consequently, we will fit a combination of mechanical ventilation and heat recovery units, as required, to each of the flats. Monitoring equipment will also be installed to assess internal and external humidity levels, heat-loss reduction and fuel consumption over a full year period."
Icynene spray applied insulation was specified for the trials because of its "speed of application, high performance and breathability". Icynene is described as a water blown, open cell foam that expands 100-fold within seconds of application, sealing all gaps, service holes and hard to reach spaces, virtually eliminating cold bridging and air leakage.
Because of its "vapour open" composition, it allows moisture vapour to pass through it, allowing the building to breathe naturally and prevent condensation.
Installation was undertaken by locally based Icynene contractor, Jim Shearer of JSJ Insulation. He said, "Access to the underfloor void was straightforward by simply lifting the large format chipboard flooring boards. Here we fitted a breathable roofing membrane to the underside of the 6×2" floor joists and sprayed a layer of foam about 150mm thick. We repeated this under each of the rooms – about 50-60sqm in all.
"For the walls, we injected Icynene through a series of 20mm holes drilled in the plasterboard, directly onto the inner face of the outside wall, giving us 100mm thick layer of foam.
"Each flat took us about a day and a half to complete – much faster than if we were using conventional rigid board insulation. Our use of a thermal imaging camera also helped identify any critical voids and cold spots that needed special attention."
Traditional forms of insulation are said to be "relatively inefficient" in sealing the box, in that they cannot completely fill all voids or seal the interface between the insulation and the building structure. Nor can they cope with small structural movements which will often lead to air gaps, particularly in difficult to treat situations where access is poor and/or when voids are of complex geometry. This can lead to cold bridging and thermal by-pass, with the consequent risk of localised condensation and inevitable dampness.
The modern alternative is spray foam insulation, which is applied using a pressurised gun system. Here, foams are applied as a two-component mixture that come together at the tip of a gun, forming a foam that expands instantly.
According to Michael McMenemin, the Icynene insulation trials at Reidvale HA will continue throughout the year. If proved to be successful they should lead to similar treatment of up to 100 additional properties under their management.