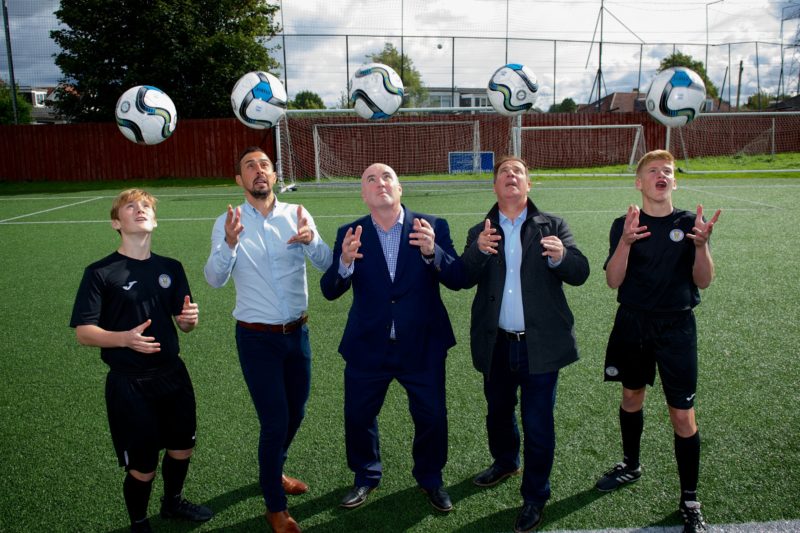 THE contractor building new affordable homes on the site of St Mirren Football Club's former stadium has donated £15,000 to the Paisley club's youth academy.
Glasgow-based AS Homes (Scotland) Ltd is currently on site at Love Street in Paisley, building 132 new homes. St Mirren's youth academy currently coaches around 150 youngsters, aged between 4 and 20.
Paul Kelly, managing director of AS Homes (Scotland) Ltd said, "At AS Homes, we always try our best to make a positive contribution to the communities surrounding our developments. St Mirren's youth academy has a fantastic reputation, and I think it does a wonderful job of bringing in youngsters and involving them in something positive that will improve their health, skills and confidence.
"The academy also has a great track record of nurturing talent through its ranks, with many ending up as first team players both at St Mirren and elsewhere in Scotland. I think it's great to see so many young people involved in the academy and am very happy that AS Homes is in a position to help."
Allan McManus, head of youth development at St Mirren FC said, "We are so grateful to AS Homes for their support. This generous funding will make a tremendous difference and will be of great benefit to the development of our young academy players, as they strive to become better footballers. With football quickly changing, we need to keep up with it, and this donation will allow us to invest in much-needed new equipment to give our youngsters everything they need to compete."