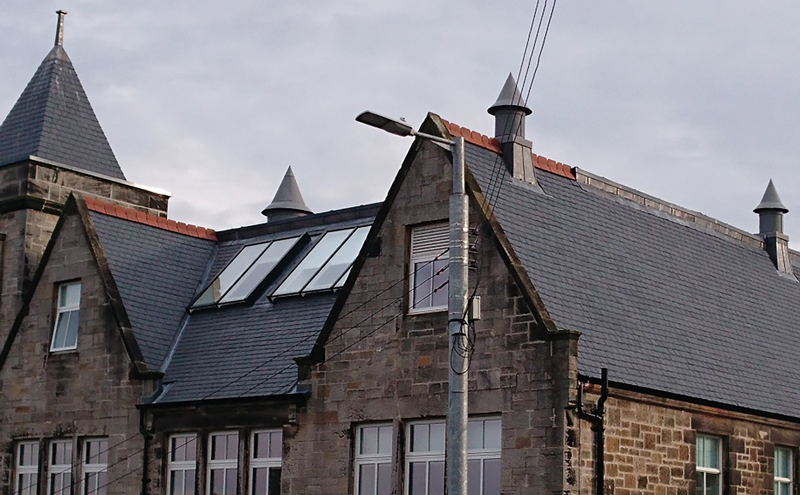 A fourth primary school in South Lanarkshire has specified Welsh Slate for a challenging roof project.
Some 53,000 dark blue grey slates from Welsh Slate's Cwt-Y-Bugail quarry in north Wales were recently used to re-roof West Coats Primary in Cambuslang.
The slates were installed by Forster Roofing Services as part of a £6 million refurbishment project.
The work follows Welsh Slate also being used on three other schools in the council region – Lamington, Abington and Leadhills.
Architectural officer Thomas Tallan said, "This is a Grade B listed building so the external fabric refurbishment works had to meet Historic Scotland and planning consent.
"Welsh Slate was specified to meet Historic Scotland's approval for a close match to the existing slate being replaced and many of the traditional buildings surrounding the school.
"The company advised on the suitable type, size and thickness for the site's location and to meet Historic Scotland's approval."
The 1,600m2 roof area, including two mitred hip turrets, took the slates on lower and upper-level pitches of 41˚, 49˚ and 65˚ double nailed with copper over a boarded roof on the external visible roof areas, some internal panels and a new turret.
Steve Scott, managing director for Forster added, "Welsh Slate performed very well. It was quite a complex build that had to take account of a resident bat colony. This was a distinct project, as it is a historical building with special periodic features including a zinc witch's hat detail on the tower block as well as lead chimney ducts, and required complete stripping and re-slating of the main roof to help the building comply with the new building regulations.
"Careful planning of the new slate positions was carried out in line with listed building planning requirements. During stripping we carefully salvaged as much of the existing slate as possible and re-used it on the internal roof sections.
"Bat boxes and an entrance in the existing roof space had to be created to provide a shelter for bats."