PRECAST giant FP McCann has expanded its Scottish presence with a string of drainage projects across the country, coupled with the acquisition of a new manufacturing site in Uddingston.
The company has already been involved in a number of drainage projects recently, including the M8 in Glasgow, the Queensferry Crossing, the A9 Kincraig to Dalraddy works, Orkney Hospital, the Shawfield housing development in Edinburgh and the Countesswells housing development in Aberdeen.
Earlier this year FP McCann acquired the former Bison Concrete Products facility in Uddingston, South Lanarkshire. This acquisition gave the firm its first offsite manufacturing base in Scotland and increased its total number of plants across the UK and Northern Ireland to 13.
Jim Harley, operations manager at the Uddingston facility, has been based at the site since 2000 when it opened under the Bison brand. He told Project Scotland that being a part of FP McCann was "a breath of fresh air" and he was pleased to see the facility being used to its full capability, offering a "one- stop shop solution" for a variety of precast concrete products.
Jim said that since acquiring the facility, FP McCann has picked up two major projects "very quickly". The firm will be providing a precast dock leveller solution for a Lidl distribution warehouse in Motherwell as well as providing prestressed flooring, precast concrete staircases and a lift shaft for the nearby Tunnock's factory.
FP McCann's marketing manager Kieran Fields said, "The addition of this fantastic facility in Uddingston was an obvious commercial decision that would allow FP McCann to continue developing our product range and services to this important part of our UK market.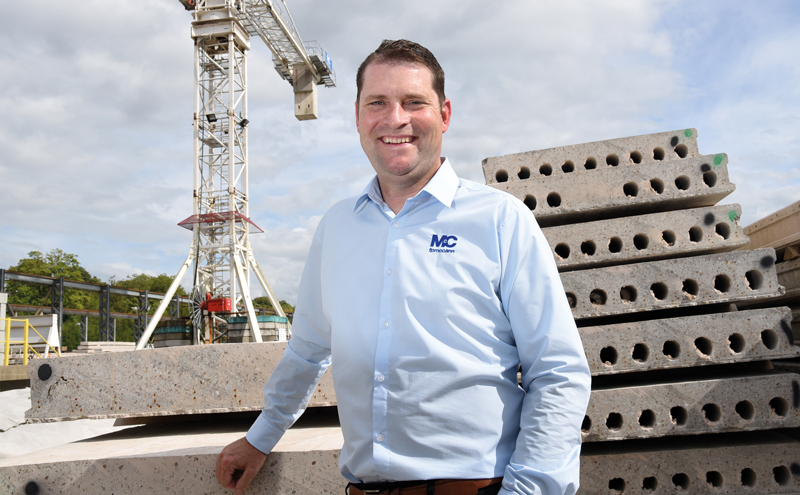 "We had always been searching for a suitable facility in this area as we had previously been servicing Scotland from our Northern Ireland and north England facilities."
He continued, "Within the precast industry itself a lot of mouldings, etc and manufacturing capabilities can't be shared between all of these facilities and especially with the on-going emphasis on sustainability and carbon footprint, etc, it allows us to then take mouldings to that area and then service any project in Scotland from its immediate footprint.
"We're not only supplying drainage products to Scotland, we've got one of the most extensive ranges of precast products that any company can provide within the UK."
The former Bison factory was primarily a prestressed hollowcore concrete flooring facility, producing flooring products from 60 millimetres deep up to 450 millimetres deep, but FP McCann will be expanding the range of products manufactured at the site. These include box culverts, dock levellers and drainage products that also incorporate precast concrete tank and chamber systems.
Kieran said that the emphasis on offsite construction had been "re-energised" and FP McCann was making a concerted effort to meet this demand.  This renewed focus on the benefits of modular construction aligned with the many benefits of precast that include speed of installation, fire resilience and durability during construction, further reinforce precast concrete as a key construction material moving forward.
FP McCann has invested approximately £18 million across all its plants for site modifications, extensions and equipment upgrades. 
The new Uddingston facility has already seen the benefits of a new biomass energy plant which delivers accelerated heat curing for the concrete and a 25-tonne gantry crane has been installed in the site's structural shed. There are also plans to increase storage capacity.
Kieran added, "The UK construction industry has seen tremendous growth over the past several years, hence the reason to make this investment now so that we're continually staying ahead of the game and ahead of our competition in terms of our ability to manufacture products, the quality and of course the servicing for those customer groups as well.
"We're very, very confident in the construction market in terms of its continued growth and that would be one of the key fundamentals of this investment that FP McCann has made throughout all its facilities."