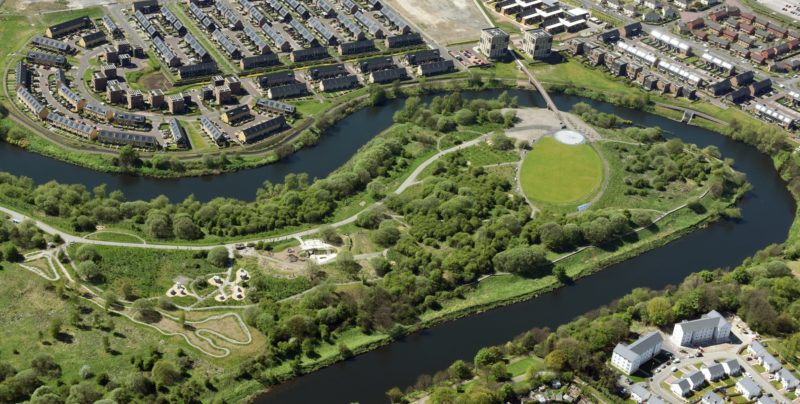 ROBERTSON Civil Engineering has marked the official opening of Glasgow's new Cuningar Woodland Park. The firm developed the urban outdoor space for Forest Enterprise Scotland in a project procured through Scape Group.
In a separate project for Clyde Gateway, Robertson constructed a new bridge which connects the Woodland Park to the Commonwealth Games Athletes' Village in Glasgow's east end.
Tony Fry, managing director of Robertson Civil Engineering said, "A great deal of hard work went into this project and I'm incredibly proud of the result. While the public have already been thoroughly enjoying the park, the official opening ceremony was a special moment for myself and the team at Robertson Civil Engineering.
"This particular site posed a number of challenges, as it had previously been used as a quarry, illegal mine and for landfill. But all the efforts taken have been worth it, and the local people now have an outdoor space to be truly proud of. I'm sure it will become a cherished landmark – and thanks to the bridge, people will be able to access the park with ease."
Robertson said the former abandoned landfill site on the banks of River Clyde is now an active "woodland retreat" and is expected to welcome 120,000 visitors this year. The park features biking and walking loops, adventure play areas and Scotland's first outdoor bouldering facilities.
The £9.3 million Commonwealth Games Legacy project has been managed by Forest Enterprise Scotland and Clyde Gateway, with the support of many partners. Stuart Chalmers, forest district manager with Forest Enterprise Scotland added, "We're really pleased that Cuningar Loop has been such a big hit with local people. The emphasis has always been to make the park a welcoming and active place for all to visit."
Clyde Gateway chief executive Ian Manson commented, "For Clyde Gateway, this is regeneration. The quality and variety of facilities in the park are proving to be amazingly popular with local residents and those from further afield, with the visitor numbers up there with some of the best-known attractions in and around the city."