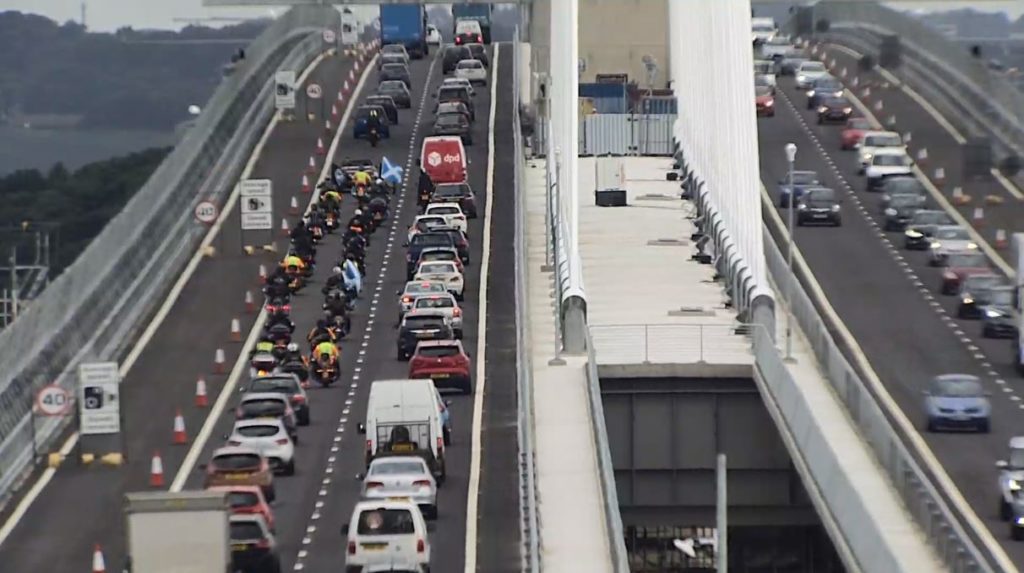 The Queensferry Crossing has seen an "unprecedented" demand since opening early this morning (August 30).
The bridge opened for business just prior to 3am and has been very busy throughout the day, with peak traffic beginning earlier than usual, from around 6am.
Economy Secretary Keith Brown commented, "With the opening of the Queensferry Crossing, we are seeing the culmination of the biggest infrastructure project that Scotland has seen for a generation.
"The Scottish people have been so engaged with it at every step of its development. It is a fantastic structure and the weather this morning proved a perfect backdrop for all those who wanted to be a part of this historic day. This is leading to large volumes of traffic on the approaches, which is causing some delays.
"People are very excited about this opportunity and we appreciate the patience that they are showing when waiting to cross. We would ask drivers wishing to use the new Crossing to leave plenty of time for their journeys and to check the Traffic Scotland Twitter feed and website for the latest information on journey times before they set-off."
Traffic Scotland operator manager Stein Connelly added, "It has been a busy day at The National Traffic Control Centre with the opening of the new crossing and drivers experiencing the road layout for the first time.
"The bridge itself is free flowing but there are delays on the approach roads – mainly down to the volume of traffic looking to cross the new bridge. We expect this to continue into the evening and would strongly urge people to check the latest travel situation before they set off on their journey and to leave plenty of extra time.
"We are looking forward to a really busy time with the celebratory events in the next few days. We are encouraging people to really think about their travel plans and to avoid the area if they can at the weekend and at the beginning of next week. Traffic will switch back onto the Forth Road Bridge on Friday for the these opening events and road users should check the Forth Bridges website for all of the details."