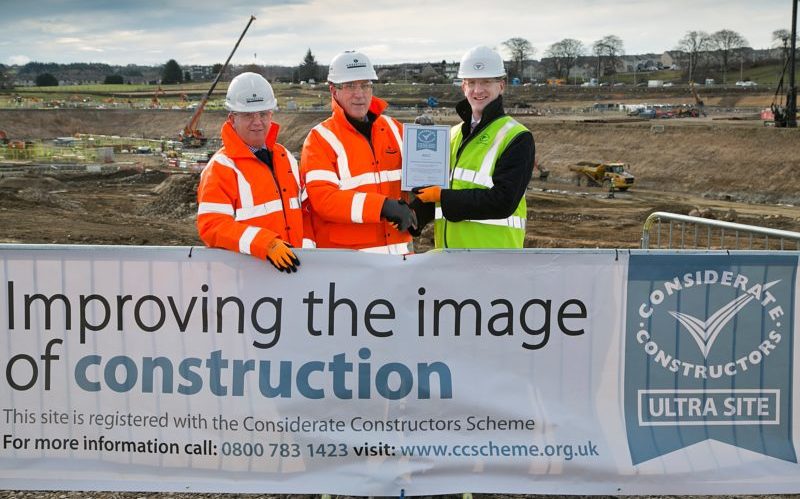 THE construction of the new Aberdeen Exhibition & Conference Centre has resulted in Robertson Group being awarded national Ultra Site status by the Considerate Constructors Scheme (CCS).
CCS said the business had achieved the rare status – the highest level of attainment with the CCS – by "taking considerate construction to the highest level" through increased collaboration and raising standards within the project's supply chain.
The site becomes the first in Scotland to receive the accolade. The new AECC project is a joint venture between Henry Boot Developments and Aberdeen City Council. Once complete, the 12,500-seat arena will host major events and bring huge economic benefit to the area.
Robertson Group is building the new arena and conference centre and one of three on-site hotels. The firm is also carrying out site preparatory works including ground and infrastructure works.
Some 600 jobs, including apprenticeships, will be created during the construction period, which is due to end in 2019.
Edward Hardy, CCS chief executive said, "Being designated Ultra Site status for the AECC project is a momentous achievement for Robertson Group, its clients Henry Boot Construction and Aberdeen City Council, and its associated supply chain.
"Since the introduction of Ultra Sites as a pilot in July 2015, only 11 out of over 14,000 registered sites within this period have received Ultra Site status, clearly demonstrating how AECC site is a beacon of best practice within the UK construction industry.
"Robertson Group is working relentlessly to drive even greater collaboration within its supply chain. This commitment has resulted in a huge number of benefits for the construction workforce, local community and environment – all helping to raise standards to improve the image of the construction industry."
Derek Shewan, Robertson Group's chief operating officer added, "This recognition is part of Robertson Group's strategic approach to developing our business, in recognising the importance of collaboration and integration of, not only our supply chain, but also the local community. The AECC project demonstrates our commitment to CCS and the award of Ultra Site status is an outstanding achievement for everyone involved in this landmark project.
"Our achievement is testament to the project delivery team and their commitment to teamwork and collaboration across the supply chain. It is wonderful to have this independently recognised and I am certain that our success on-site to date is in large part thanks to this approach.
"Working in this way delivers economic, social and environmental benefits and all three are considered in all that we do on-site at the AECC."
Nick Harris, director at Henry Boot Developments said, "Working collaboratively is key to a successful project, so we're absolutely delighted that our main contractor Robertson has achieved Ultra Site status on the new AECC. Both Henry Boot Developments and Robertson Construction are committed to achieving high standards on every aspect of this flagship new facility for Aberdeen and the north east, and having Ultra Site status demonstrates that the project has reached exemplary levels of best practice in terms of community, workforce and the environment."