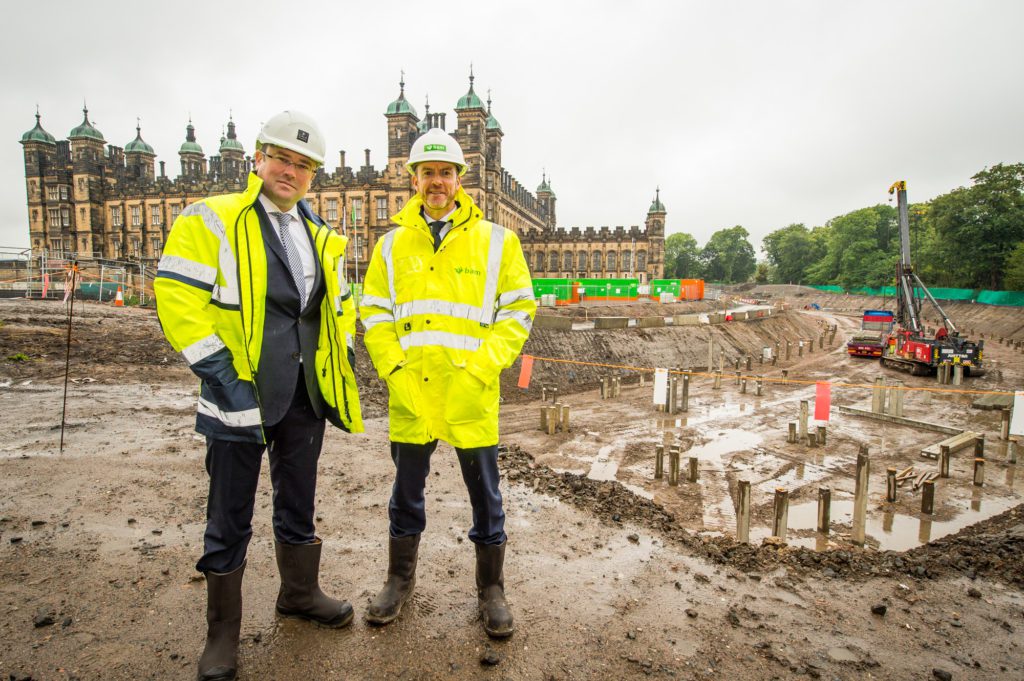 BAM Construction has been named lead contractor on a new Edinburgh development by CALA Homes, situated within the city's World Heritage Site.
The £90 million-plus Crescent development sits in the grounds of Donaldson's College and is to consist of a "sweeping curve" of 84 glass-fronted residences.
Bam Construction will deliver the main shell and core structure of the development following the signing of a contract worth over £30 million, with CALA's team fitting out the apartments.
Preparatory work, also carried out by BAM Construction, commenced in May and involved a "significant" excavation to create underground parking.
David McGrath, managing director of CALA Homes (East) said, "This has been a major focus of ours for the past few years and we fully understand the responsibilities of developing within the World Heritage Site.
"In BAM, we are confident that we have a construction partner with the credentials and expertise to match our own high standards in delivering such an ambitious project.
"It is incredibly important to us that our partners understand the importance of this site and work with neighbours to minimise disruption as far as possible. BAM has proven that it shares these values.
"This promises to be a one-of-a-kind development that we are extremely proud to be part of. This appointment is the next step in realising the final, exciting design."
Bruce Dickson, regional director of BAM Construction, added, "CALA Homes is recognised as the pre-eminent developer of upmarket homes in Scotland.
"We are thrilled to be involved in such an ambitious project here at The Crescent. CALA Homes have brought BAM on board for our expertise in delivering major complex construction projects.
"It's fair to say that this project has some challenges, but we've already been working in partnership together for over a year to resolve the majority of these before we put a shovel in the ground.
"Both of our teams are completely committed to delivering this really exciting project and its one that, once completed, will definitely be an impressive addition to Edinburgh's architectural legacy."