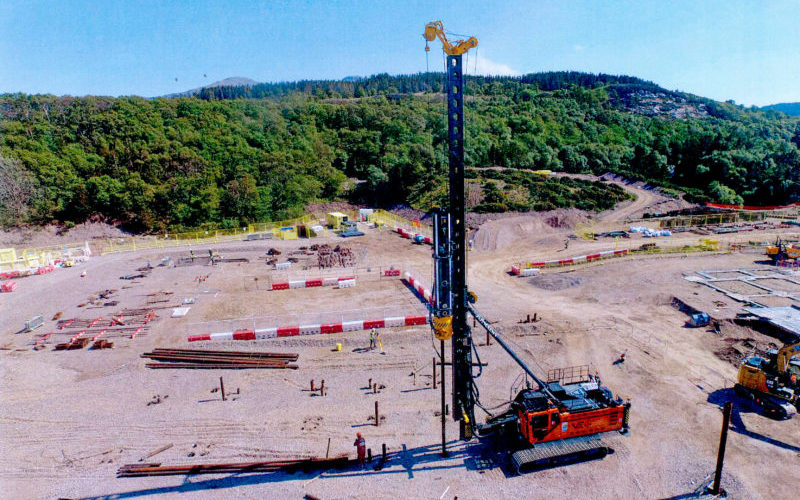 VAN Elle's Scottish division has carried out a major project on the Isle of Skye as part of the construction of a new fish feed processing factory.
Marine Harvest is behind the plans for the new facility at Kyleakin, which has been tipped to bring dozens of jobs to the area.
Working in partnership with Robertson Construction as main contractor for the project, Van Elle provided specialist piling and ground engineering solutions.
Tony Pontiero, divisional director for Van Elle in Scotland, told Project Scotland the firm's remit was two-fold.
"Two different work packages were involved," he explained. "One was driven steel tube piles. The other was the construction of a secant wall, which is basically the interjection of 'male' and 'female' piles, which crunch into each other to form a barrier that allows for the potential of eliminating the ingress of water and soils into a designated area.
"We had two different types of rigs working up there. The driven work was done by a Junttan PMX 22, which arrived on the site brand new.
"The secant wall works were carried out by a large CFA (Continual Flight Auger) rig known as the Llamada P160, one of very few in Europe, not just the UK. It can provide piles of 1200mm diameter down to an impressive 30+ metres, depending on ground conditions."
Van Elle worked with Robertson on the project from an early stage – something Tony believes is vital to ensuring projects run as smoothly as possible. "Robertson is a great and professional company to work with," he added. "The importance of getting involved at an early stage is that it allows us to advise the client of preferred piling techniques and introduce potential value engineering and potential on-site programme reduction. It also gives people peace of mind that they're involved in a partnership, not just another subcontract.
"Early engagement can alleviate potential problems. If we advise certain techniques – for example we can advise on steel rather than a precast driven solution dependant on ground conditions, something very prevalent in Scotland – in doing so, this may alleviate the potential of delays and additional costs when on site and is something that Van Elle's vast knowledge of ground engineering can provide at these early stages."
Van Elle's work commenced in April and was complete in May for both work packages which were run in tandem, ahead of schedule. Around a dozen of the firm's employees were involved at varying stages, from estimating and design through to project management and site operations.
Tony said the biggest challenge was the remote location. "Location definitely was a challenging aspect. The most simplistic of things – accommodation for example, can be rare," he explained. "You also have to consider getting materials to and from site. Repairs and on going maintenance that has to be carried out can't just be called upon as people have to travel. We had people on standby and located potential local suppliers for materials and engaged local contractors where possible."
Tony said business for Van Elle in Scotland remains "buoyant" at the moment, with the recent political uncertainty failing to have any immediate impact on the firm's forward order book. "Housebuilding is particularly buoyant," he added. "In addition, we have been successful with some commercial activity as well, including hotels, office buildings, care homes.
"Expansion plans in Scotland have been a success and remain ahead of schedule. With a local workforce now in excess of 20, we are proud of our investment in the region and commitment to the local community. Our operations encompass everything from manufacturing, estimating, design and operations."
Van Elle's Blantyre-based factory opened last year. The facility is geared up to produce Smartfoot, the firm's successful precast ground-beam design.
"The Scottish market is a cornerstone of the company's growth strategy," Tony added. "We have made and continue to make a commitment for the continued growth of Van Elle in the region."