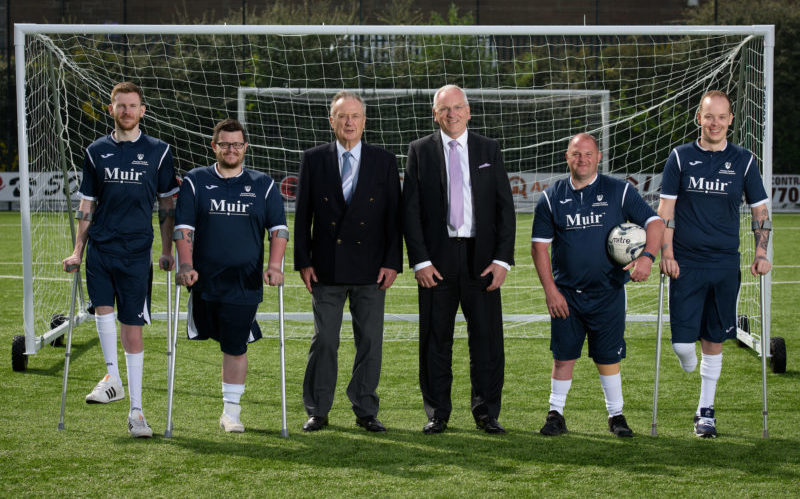 MUIR Group has provided sponsorship to help a Scottish amputee football team make its European debut.
The Fife-based contractor offered financial assistance, which will enable the Amputee Football Association Scotland (AFAS) to send a squad of players to Breda, Holland, to participate in a tournament against teams from Holland and Germany.
Muir Group stepped in after hearing of the charity's funding appeal through one of its own employees, Iain Matthew. Iain, who had his right leg amputated at the age of three, began playing amputee football earlier this year.
The AFAS was established to help develop amputee football teams at clubs across Scotland. The charity has seen a surge in demand and junior and senior squads now enjoy regular training sessions with Partick Thistle Community Trust. The team competes in the English Amputee Football League.

Ashley Reid, founder of Amputee Football Association Scotland said, "Amputee football is a relatively new discipline in Scotland so to see our player numbers grow so rapidly in such a short time is testament to the demand that exists for the sport. Our aim is simply to provide the opportunity for anyone with an amputation or limb difference to play football on a level playing field in a fun and safe environment."
John Muir, chairman of Muir Group added, "We at Muir Group are honoured and delighted to sponsor the Scottish amputee football team for their first ever European competition. When Iain brought it to our attention that the team wouldn't be able to take part in this competition without financial backing, we knew we had to step in and help. It's fantastic to see amputee football really starting to take off in Scotland, and everyone at Muir Group wishes the team all the very best of luck in the competition and beyond."
Iain Matthew, who has worked at Muir Group since June 2016 said, "Amputee football has given me a new lease of life. I'm fitter and have made a great group of friends. The opportunity to travel to The Netherlands seemed like a dream and I'm proud that my own employers stepped up to make sure that dream could come true for the squad."