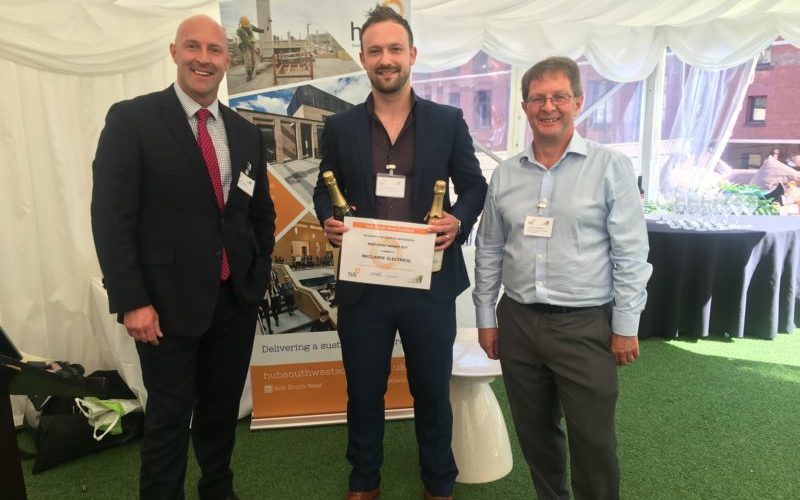 THE founder and managing director of an East Kilbride-based electrical business has won a "best presentation" accolade at hub South West business development course.
Steven Maclaren started Maclaren Electrical Services in 2006 and has seen the business grow to the point where it now has annual sales in excess of £1 million and 21 workers.
Steven said, "I was delighted to be judged best performer at the hub South West Award Event especially since the overall standard of company presentations by my fellow participants on the programme seemed to me to be very high.
"Each representative of the eight companies participating in the programme is required to make a presentation at the conclusion of the course which covers the benefits they have derived from it and the lessons they will take forward to improve the chances of their company winning work from some of the Tier One contractors.
"I told my audience that I had taken lots of knowledge and understanding from the programme whose lessons I believe I can put into practice by helping take our company to win bigger and better contracts. The judges were kind enough to say my presentation was best on the day."
The Building for Growth programme started in March and ran for 12 weeks, taking place over eight half-day sessions. It concluded with an awards ceremony in Glasgow.
hub South West said the programme is open to any business "looking to grow in a sustainable manner by building the skills and internal capacity to take on increasing volumes of business". Participants are encouraged to discuss business issues, challenges and opportunities with like-minded people.
Michael McBrearty, chief executive of hub South West added, "Our aim is to help generate growth in the local economy through innovative methods of partnership working and procurement which also provide value for money solutions. Our Building for Growth programme, has already delivered success to the leaders of its participating companies by both broadening and deepening their grasp of the factors needed to win more new, bigger contracts from the Tier One contractors and we hope and trust that Steven Maclaren and the others participants in our sixth programme will follow in their footsteps."