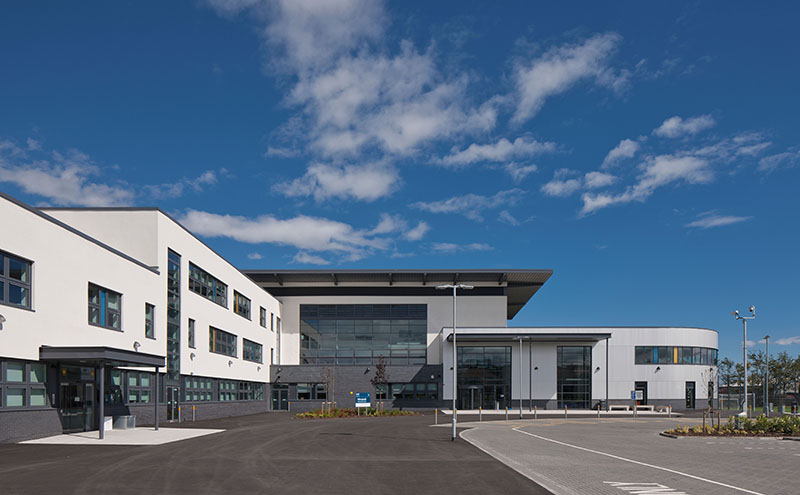 LAKESMERE Group has been appointed to deliver the roofing and cladding packages on several education contracts across Scotland, including the new Windmill Community Campus in Kirkcaldy.
Replacing the former Viewforth High School, the new Kirkcaldy campus is the final project to be delivered under the Building Fife's Future Framework. Lakesmere Scotland was appointed by main contractor BAM Construction to undertake the roofing and cladding packages for the new building. The team's scope of works included the design and installation of the new school's roof, which features 4,500 square metres of Kalzip aluminium and a large paved hot melt terraced area.  The cladding package features the use of Kingspan Longspan and micro rib composite wall panels to the rear elevations and Sotech anodised aluminium planks which have been installed to the curved library wall elevations.
Lakesmere said the firm's technical expertise was essential to accurately setting out the panels, ensuring the correct building tolerances were met and the varying radiuses were correctly calculated.
Lakesmere has also completed work on two news schools that form part of Edinburgh City Council's new Wave 3 programme to replace existing facilities in the city. The first, Portobello High, saw Lakesmere working alongside Balfour Beatty and JM Architects to complete roofing works to the main teaching blocks, assembly hall, drama and IT buildings and the new swimming pool, where a high humidity roof specification was required to reduce the risk of corrosion of the fixings and roof system from moisture and chlorine in the air. The contract also included the installation of an enhanced acoustic roof to the assembly hall, hot melt and Kalzip nature roof systems to the terraced roof areas and plant wells.
Repeat business with JM Architects led to Lakesmere's further appointment to work on Edinburgh's James Gillespie's High School. Construction of the first phase of the new school has now been completed, where Lakesmere installed the roofing package of the main teaching block which featured Kalzip standing seam, Kalzip nature roof, Icopal membrane and hot melt systems. Lakesmere is now working on the new sports and performance building which is due for completion later this year.