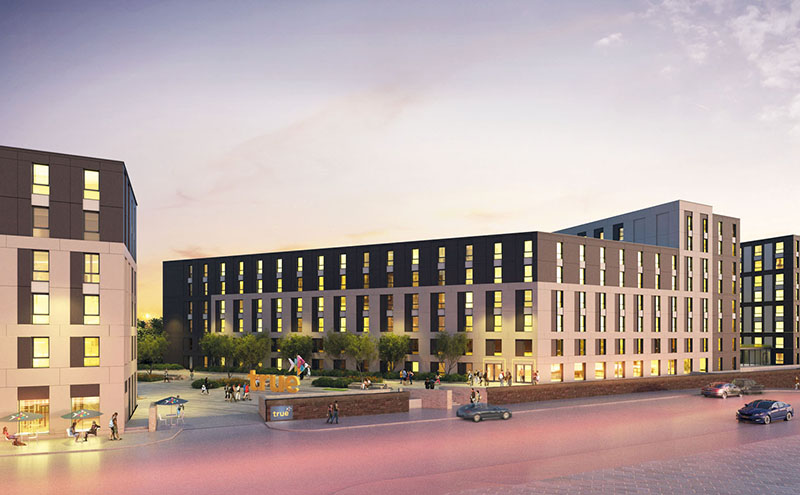 WHEN asked to imagine typical student accommodation, one might conjure up images of dank and dingy dormitory blocks, stacks of dirty dishes and rubbish everywhere. This is a perception that student accommodation provider true student is looking to change with its current project in Glasgow.
The company is working with contractor Ogilvie Construction to deliver the £65 million eight-storey student accommodation block, which is being built using the method of modular construction.
Each of the block's 592 rooms were fabricated and fitted out in southern China by CIMC Modular Building Systems, before being shipped to Glasgow and put in place on-site at Kelvinhaugh Street in the city's west end.
Michael Crane, design director at CIMC Modular Building Systems explained, "The idea is the rooms that form the building are constructed off-site in a factory environment. They've been designed specifically for this project so they've been designed specifically with the true student brand in mind, along with true's architects and interior designers."
Michael continued, "They go on a ship and they're then transported to the UK. In this case they actually came into Southampton where they were put onto lorries and then driven up to Glasgow, lifted into place, fully finished, with all the M&E systems in; so all your electrics, plumbing, furniture, furnishings and the bed.
"The idea is these big steel boxes just plug together. They get bolted up and then internally you make the connections between each box for the pipework and the main electric runs.
"Before the modules arrive on-site, the site needs to be prepared, ready to accept the modules. There's a combination of conditions on this site so some of the modules are landed directly on the foundations on the ground floor level, some of them are on a podium deck – so one storey up or two storeys up on a steel frame concrete slab.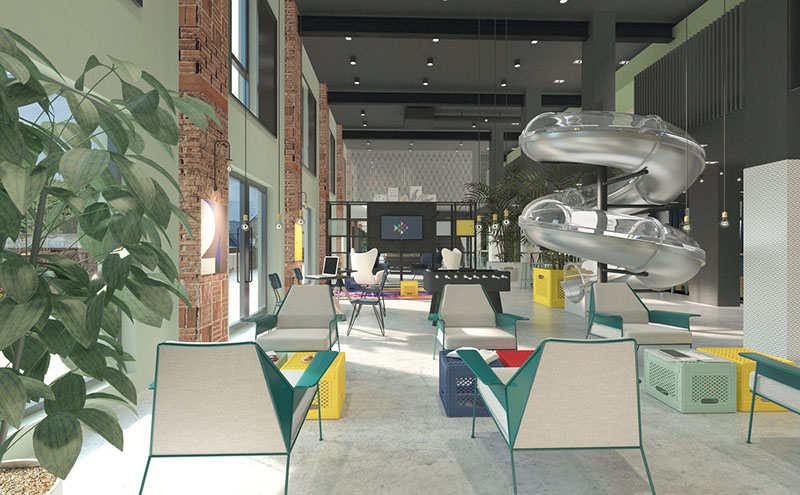 "Either way, the foundations need to be prepared or the concrete slab needs to be prepared to accept our modules, which essentially means there needs to be a steel connector placed, which is cast into the concrete for us to then weld our baseplates to, so we have our own specifically designed baseplate, which connects our modules down to the slab. That happens prior to the modules arriving – so the site is prepared, access is all arranged and the modules are delivered by truck. Typically three trucks at a time will arrive on site, scheduled as a just-in-time delivery. The module is then prepped on the back of the lorry, which may include adding Combisafe edge protection to the module. Obviously it needs to be disengaged from the lorry bed and from the twist locks and then the lifting gear from the crane gets positioned on top of the module and it's lifted. It's a top lift system using a spreader beam to stop any deflection in the actual module itself, positioned carefully into place – so you've got your crane driver, your slinger, banksman – your whole team of installation people will do this. The module gets landed over our baseplate connections and then they're bolted down securely and then it's just a repeat process."
Michael went on to explain that, although the modules are not shipping containers, they are based around shipping containers in that they can be transported in the same way; "We have the connection holes in the roof, the lifting eyes in the roof and we have similar connections in the floor so that when these are at a port…they can literally be locked on in the same positions onto the lorry bed or onto a ship and transported.
"Obviously, China being one of the largest manufacturers in the world, CIMC is the largest manufacturer of shipping containers. We currently produce 60% of the world's stock of standard sea containers so we can make containers very well and we can make en masse very well, so what we're doing now is making bespoke specialised modules that benefit from all of those manufacturing processes, benefit from all of that experience and that are designed to be shipped around the world. If they can go from Hong Kong to Southampton they can go from Hong Kong to wherever.
"We've built in San Francisco and we're building in Ghana later this year so we've got projects on a global basis already. For us it's just a question of finding the right market and the right people to work with to develop those areas."
true student has already used the modular construction method for its Newcastle development in 2015. Marc Carter, managing director at true student, explained that the time sensitive nature of building student accommodation meant that modular construction was an ideal method. The process of stacking all the modules on-site in Glasgow was nine-and-a-half weeks from start to finish.
Marc said, "Student delivery is very time sensitive; they've got to be ready for the academic year so we're building for a market that can't tolerate any programme delay on site – that's probably the most crucial commercial aspect. If we're developing a hotel and we're a few weeks late, we've lost a couple of weeks of revenue. If we miss an academic year in the student market, that's pretty disastrous; so certainty of delivery date is a key factor, certainty about quality is another key component."
Marc likened the process of constructing the modules to a car assembly line; "These things are starting life at one end as a lump of steel and coming out the other end quality assured, tested and checked, so we've got continuity of quality throughout all of the boxes as they've arrived and they're loaded out. Those two things combined give us a great deal more commercial comfort that we're mitigating risks that exist in traditional construction methods."
He continued, "From our point of view, as a client of CIMC, we see that certainly their programme and quality assurance – they're key benefits."
The fact that these modules have been likened to shipping containers might lead people to think they are just that – old shipping containers – a myth that Marc is keen to dispel; "The technology and expertise and experience of making a shipping container – a box that's robust enough to be shipped around the world – is what CIMC bring to the table. The fact that the box is made to our specification for this purpose and fitted out entirely to our design obviously means that it's not a recycle.
"Lego is a vernacular phrase that's been used and repeated several times, and there is a familiarity with Lego and that process of assembling a regimented structure of uniformly rectangular modules (but) it's slightly more sophisticated."
A far cry from the student accommodation of old, true's Glasgow development will feature facilities including a gym, a library, a cinema, a coffee bar and a common area called the 'Festival Zone', complete with a helter-skelter style slide, table tennis and gaming stations. Marc said that given the enthusiastic reaction to the slide, it is likely to become "a staple in every true development".
"The whole brand wants to be fun; it wants to be enjoyable. Studying is a serious business but you also go to university to have fun."
The 21.8m sq. modules include a double bed, a flat screen TV, kitchen facilities, a desk and modern bathroom, which, having seen it, I can say is larger then my entire room was at university.
true student has an example room set up at its pop-up store on Byres Road, which Marc welcomes anyone to come along and view; "We allow anyone to come and look at our unit up at Byres Road, which is a complete life-size example of the finished product and that is anything other than an old shipping container that's had a bed slung in it; so I think the proof in the pudding is in the seeing. We're working very hard to make sure as many people as possible can see what we've done.
"We've worked very hard to make the brand quite a compelling proposition for the students."
Marc said that there has been an "evolution" in purpose-built student accommodation over the last decade that has accelerated in the last three years.
"The shift change from ten years ago is substantial; there is a lot of stock which is increasingly not acceptable to current students. It's still fit for purpose but it's not acceptable in terms of the standard, size and specification. The generations that are at university now and will come to university in the next five to ten years have high expectations."
That also factors in a large and increasing amount of international students. The expectation from those individuals and their families, some of whom are travelling thousands of miles to study, is that they will be provided with good quality accommodation. Marc explained that as new stock comes to market, older "less attractive" stock will drop out.
"Coupled with that, there's a massive expansion of student numbers in Glasgow," he added. "The universities are all very aggressively expanding, particularly Glasgow University having acquired the infirmary site, (with the aim of) developing that as academic space. Their aspiration is to grow their student numbers very significantly over the next five years so the demand will do nothing other than increase so we're hoping to position ourselves that we're a brand that is influential and aspirational for the students; that they will feel some loyalty towards. We think this current student crop are very brand aware, we want to tap into that brand familiarity and make true the number one brand."
The target completion date for the project is August 23, with students arriving for the new term on September 8.
With regard to the modules themselves, Marc said there was "very little" left to do; "It's a question of unpacking on-site, we put in the TV, we put in the bed and we put in the fridge."
He added, "The common areas are coming along, we've got the fit out second fix to go in those common areas, we have landscaping to complete and we have the external envelope to complete. Most of the building now is fully insulated, the cladding rail system is in, we have an adhesive system of large panel rain-screen cladding so that's going to go up very quickly. Those processes are all happening simultaneously."